Tory-DUP deal means £150m for Northern Ireland broadband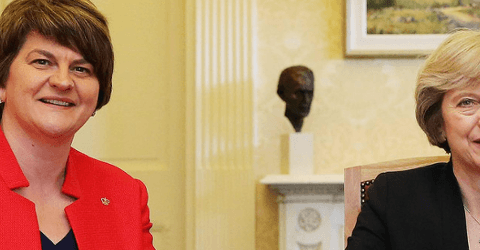 Theresa May's call for a snap election may have sparked one of the most politically uncertain times in recent British history, but out of the chaos comes better broadband in Northern Ireland.
After a lengthy period of negotiation, the Democratic Unionist Party (DUP) of Northern Ireland secured £1 billion of taxpayer's money from the Conservative government in exchange for supporting Theresa May and her party on votes in the House of Commons.
£150 million of this money is to be spent on improving broadband infrastructure, such as laying new fibre cables and improving on the existing exchanges and router technology.
The rest of the money will be divided up as follows:
£400m for infrastructure
£200m for health transformation
£100m for healthcare and education
£100m for deprivation and poverty
£50m for mental health
Arlene Foster, head of the DUP, had this to say: "We welcome this new financial support of £1 billion in the next two years as well as providing new flexibilities on almost £500 million previously committed to Northern Ireland."
Most of this money will be received within the next two years, although the £150m for deprivation, poverty and mental health will be dished out over five years instead.
There's no news on precisely how this money will be spent, yet.
Judging from the allocation of these funds, it appears that better broadband for Ireland is a higher priority than healthcare, education and tackling poverty.
Ofcom statistics show 8 percent of Northern Ireland cannot receive internet speeds higher than 10Mbps – the lowest speed that qualifies as 'broadband'.
The rest of the UK shows an identical statistic of 8 per cent being unable to get 10Mbps speeds.
This means around 144,000 Northern Ireland residents aren't getting broadband, compared to the 2.4 million people in the rest of the UK who are in the same situation.
The £1 billion in funding has been called a "bribe" by many critics, as it appears that May is using public money to prop up a minority government.
Nicola Sturgeon, leader of the Scottish National Party, tweeted that the arrangement was a "grubby DUP deal to let PM cling to power".
It is important to note that this money is not going to the DUP but the Northern Irish government. Regardless, the DUP are likely to curry a lot of favour with voters for managing to secure such a hefty sum of money.