Virgin 300Mbps Project Lightning strikes 16,000 in Durham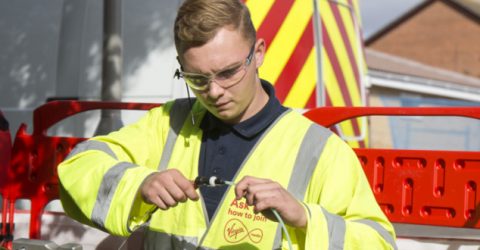 16,000 more homes in County Durham will be hooked up to 300Mbps cable broadband by the end of 2019, says Virgin Media.
Ofcom research for its 2016 Connected Nations report found that on average, Durham residents can only get 15Mbps downloads to their home.
Virgin has been seeking to accelerate the rollout of its £3bn 'Project Lightning' scheme this year.
An embarrassing error in March 2017 saw four top-level staff suspended when the number of UK homes linked up to Virgin's fastest home broadband was overestimated by 140,000.
In May, 8,000 properties in Kent got the upgrade treatment, followed by a further 42,000 in Devon then another 53,000 homes and businesses in Morecambe, Lancashire in July.
Virgin's VIVID 300 offers the fastest home download speeds available UK-wide.
But unlike gigabit full-fibre the cable broadband connection is asynchronous. This bascially means that upload speeds can't match downloads.
The likes of Gigaclear and Hyperoptic serve far fewer homes but can guarantee stable uploads at the same speed as downloads.
Durham councillor Joy Allen said the Project Lightning rollout would be particularly welcomed by small businesses who rely on fast connectivity "and who could see their companies transformed by this opportunity."
Home broadband up to 300Mbps will be available, while businesses who want to switch to Virgin will have the option to take 350Mbps.
Hugh Woolford, Regional Director at Virgin Media, said: "By expanding our network to thousands more homes and businesses we are making Durham a digital hotspot, and time-strapped families will soon benefit from the reliability of [the] service."
American parent company Liberty Global wants Virgin to extend its 300Mbps network to a total of 17 million homes and businesses by the end of 2020.