Virgin force Sky to drop Pets 'Super Reliable broadband' ad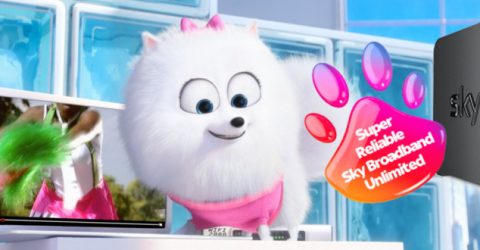 Virgin Media got a complaint to the Advertising Standards Agency upheld over Sky's recent national TV ad claiming the broadcaster had 'Super Reliable broadband'.
Sky have been told to pull the the adverts and warned not to show them again.
Investigating Virgin's complaint the ASA found Sky had broken 10 advertising rules.
The offending advert, which features Gidget the Pomeranian and friends from the recent hit film The Secret Life of Pets, is still available on Sky's Youtube channel.
The producers of Secret Life of Pets, Illumination Productions, also released the hugely popular kids films Sing, the Despicable Me series and its 2015 spin-off Minions.
Sky implied in the advert that it could supply 'Super Reliable broadband' better than its rivals.
Gidget, voiced by American comedian Jenny Slate, is trying to get her doggie pals to join her in a 'dance party', but stuttering broadband ruins the fun.
She exclaims while jumping up and down on the router: "Oh no! Why does this always happen to me? Bad broadband, bad!"
Her hamster friend helpfully pitches in: "You need Sky Broadband Gidget, it'll keep you dancing all night long!"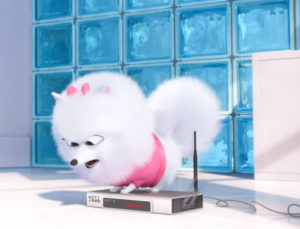 A voiceover at the end of the ad says "Switch to Sky Super Reliable broadband".
The 2016 film also features the voice talents of Steve Coogan, Louis CK and Kevin Hart.
In recent years Sky has also plundered Pixar's Inside Out and Illumination's Despicable Me 3 for its broadband adverts.
In the hot seat were Sky's three broadband deals: ADSL2+ – up to 17Mbps; Sky Fibre – up to 38Mbps FTTC; and Sky Fibre Max – up to 76Mbps FTTC.
Guide: What is FTTC?
The ASA ruled that despite Sky's objections the advert didn't have the data to back up the suggestion: that Sky broadband could offer a more reliable connection than its rivals for gaming, streaming music video and audio.
They said: "We considered consumers would expect broadband services described as 'super reliable' to have generally good responsiveness including for browsing, gaming, streaming and VoIP…[and] would expect that a 'super reliable' service would achieve speeds close to the maximum they would normally experience."
The ASA looked at the boring technical details that affect broadband speeds to verify the claims, including latency, jitter and packet loss.
Sky argued that its claims were based on an Ofcom report that showed "that their Sky Fibre service delivered the best relative peak-time performance for 'up to 38Mbps' and higher connections compared to their competitors. Sky Broadband services also had fewer daily disconnections than TalkTalk. They said they considered Sky Broadband was very reliable because it outperformed even significantly faster services."
But the ASA agreed with Virgin and said viewers would view the claim as proof that Sky's 'Super Reliable broadband' service was better than any other broadband provider.
This is just the latest Sky broadband advert to be pulled from the airwaves after complaints it has been either making stuff up or exaggerating.
Another Hollywood cash-in with Lego Batman was culled in June after the ASA ruled its claim to offer the UK's 'lowest price fibre broadband' was misleading.
BT also had its popular Ryan Reynolds-fronted ad removed from TV in June after rivals complained that it was making incorrect, exaggerated and misleading claims about the strength of BT WiFi.
It shows just how competitive the broadband market is for your hard-earned cash and how desperately ISPs want your business.
You have the power, so use it wisely and check through our guides here to get clued-up, and get yourself the best broadband deals on the market here.