Virgin Kids TV app ad-free fun for 3-7 year olds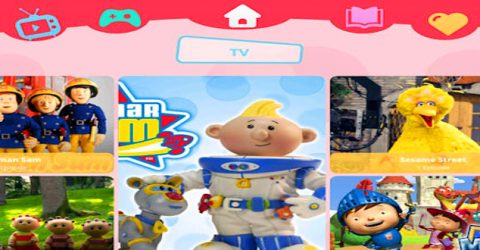 Virgin Media have produced a new advert-free app designed specifically for pre-schoolers with all the big-hitting episodes to excite young children.
Aimed at children age three to seven, the Virgin TV Kids app brings together more than 2,000 episodes of the most popular on-demand kids TV, alongside interactive games and e-books.
No in-app purchases
Parents have been promised that there will be no sneaky advertising for other paid channels, nor any in-app purchases on the Virgin Kids TV app.
In-app purchases have become the bane of a young parent's life. Many games can be downloaded for free and children often play games on a tablet or phone linked to their parent's Google Play account. Before they know it, your little ones can rack up hundreds or even thousands of pounds by adding extra lives in-game, without really knowing that these buys are costing real money.
That will be a thing of the past with the Virgin app, the company promise.
What's on it?
TV shows can be downloaded to allow kids to watch them offline, so it's good for long car journeys or holidays.
The app has a button which, when pressed, will play the same show five times over. Virgin's research told them that young children love watching programmes on a lopp. Parents may want to restrict access to this button in case they are driven insane by the constant repetition.
Grown-ups can restrict streaming to a WiFi connection only if they want to keep their kids away from accessing the internet at large. The app also tells parents about how much mobile data has been used, as well as showing usage history and downloads.
TV
Virgin say that at the date of launch in August 2017, the app includes all the biggest children's TV shows. These include: Bob The Builder, Mike The Knight, In The Night Garden, Thomas & Friends, Peppa Pig, PAW Patrol, Masha and Bear, Scooby Doo, Tom and Jerry, Monkey See, Monkey Doo and Angelina Ballerina.
E-books
Monsters Love Underpants, Princess Evie's Ponies, Dogs Don't Do Ballet and Barry The Fish With Fingers and No-Bot, the Robot with No Bottom.
Games
New games to test children's skills in logic, memory and problem solving – including Playful Kitty, Bubble Gems, Kids Tangram and Doctor Teeth.
How do I get it?
The Virgin TV Kids app is available to download for free from the Apple App Store or Google Play for all Virgin TV customers on the Fun and Full House bundles.
The app works on compatible smartphones and tablets running on either iOS 8 and Android 4.1 and above. Content can be viewed on WiFi and 3G/4G in the UK, with the ability to download TV shows to watch offline if abroad.