Guaranteed: Money off Vodafone broadband if speed drops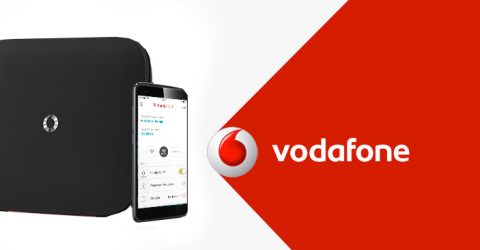 Vodafone are the latest ISP to offer cash off your bill if your broadband fails to reach a minimum speed.
The flashy-named "Ultimate Speed Guarantee" is Vodafone's latest policy to assure customers they'll be getting the speeds they're paying for.
Vodafone's Fibre to the Cabinet broadband customers will now be guaranteed a minimum speed, no matter which tier of package they are signed on to.
The guaranteed speeds for connections are also a flat, universal standard of 25Mbps for their 'Superfast 1' package, sold as 'up to 38Mbps' and 55Mbps for the 'Superfast 2' package, sold as 'up to 76Mbps.
This means that, no matter where you are, you can be confident in receiving the same basic speed as any other Vodafone customer.
Find: Latest Vodafone broadband deals here
15% off
If your speed ever drops below these promised thresholds, a 15% discount off your next bill can be claimed immediately and will last until your speed is restored to proper levels.
Making a claim is also incredibly easy to do.
After testing your connection through the Vodafone Broadband app, if your speed isn't measuring up to standard, a big "Claim Ultimate Speed Guarantee Discount" button will appear. All it takes is a tap of the button to instantly apply the 15% refund.
The speeds being calculated for the discount to apply is the "sync speed" from your router to Vodafone's exchange – which then connects to the rest of the internet.
This means that any loss in bandwidth caused by the connections in your home (such as Wi-Fi), or by the websites and servers you are visiting, are ignored for the purposes of the discount.
Sync if you're winning
Vodafone guarantee that sync speed is the "most accurate measurement" for checking the quality of their connection, as it only measures the portion of the network that Vodafone and Openreach are responsible for maintaining. This also ensures that any problems can be identified and fixed as soon as possible.
Sky has been offering free cancellations and cash back to Sky Fibre Max customers with speeds under 55Mbps since August 2017. Other providers are yet to follow suit, but it won't be long until they don't have a choice.
Ofcom has recently announced revised rules that oblige ISPs to guarantee minimum speeds and provide more accurate broadband speed estimates. The remaining ISPs will have until March 2019 to follow the example set by Vodafone and Sky, who are both well ahead of the curve.
The minimum speed guarantee offered by Vodafone will only apply to customers who have signed contracts on or after 1 March 2018.