Slow DSL broadband on the way out as fibre takes over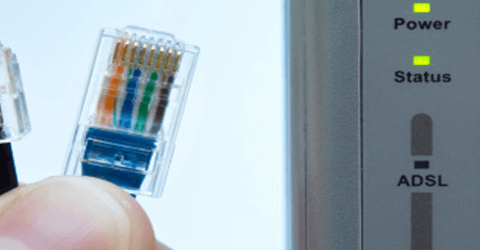 Analysts believe the days of DSL broadband are numbered, as for the first time ever, more people in the UK have fast fibre broadband in their homes.
The UK has reached a tipping point in its adoption of faster broadband technology, according to the analysis by Point Topic.
More people now have fast fibre broadband in their homes than the older, slower DSL technology.
"The days of DSL technology are surely numbered," writes Point Topic's Annelise Berendt.
"The UK broadband market looked very different in terms of its technology base headline at the end of March 2017 than it did just three months earlier at the end of 2016."
Before you Buy: ADSL vs Cable vs Fibre – What's the best for home broadband?
The report found that the number of DSL lines fell below 12.8 million for the first time.
By contrast, Fibre-to-the-cabinet (FTTC) and Fibre-to-the-premises (FTTP) broadband leapt to 12,861,900 lines.
It's the first time analysts have made this kind of announcement as the UK seeks to take advantage of interest and investment from the biggest broadband networks.
DSL broadband offers speeds 'up to 17Mbps', but many people find the average speed they're getting is well below that.
More: Slow internet? Secrets to beat the broadband 'rush hour'
By contrast, fibre broadband can give you connection speeds up to 76Mbps.
Virgin Media have also upped their game by starting to offer 100Mbps cable broadband as standard in their cheapest packages.
Ms Berendt found that while the early 2010s were dominated by DSL infrastructure, the country now has more fibre-based broadband subscribers.
She said: "Customers using the cable modems of Virgin Media and WightFibre, the country's only independent cable-based operator, have passed the five million mark.
BT overtakes Virgin as largest superfast supplier
BT broadband is now the most popular superfast broadband supplier in the country, overtaking previous record-holder Virgin Media.
Demand for fibre broadband continues to grow, with 53 per cent of BT customers now using the faster tech than cheaper DSL.
More: Decent broadband 'more important' than hospital or high street
"As predicted in our last quarterly broadband analysis, BT Consumer has overtaken Virgin Media as the largest provider of superfast lines by 875,000."
"Virgin Media, having nearly exhausted its existing broadband base in terms of upgrades to superfast speeds, continues to raise the bandwidth stakes saying that all new sales are now 100Mbps and above."
Despite a little hiccup in the counting stakes, Virgin says its £3bn Project Lightning project should be on track to deliver fast cable broadband to 4 million homes in the UK by 2019.
The best broadband deal for you is just a click away – enter your postcode now