Sky to launch high street 'hubs'.
Broadband and TV giant surprises everyone by returning to the high street.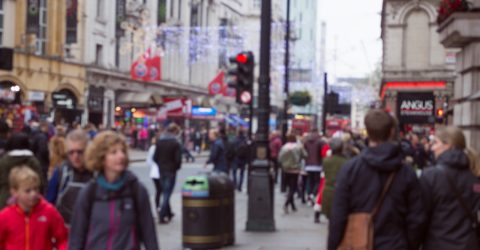 The Sky's the limit
You're 36 minutes into the call with your broadband provider, there's no point hanging up now. They'll definitely pick up soon.
You actually sort of like the hold music – a tinny, fake saxophone version of Smash Mouth – All Star. It's 1 hour 39 minutes into the call, you hope it never ends. This is your life now.
It's 2 hours 4 minutes into the call, you get disconnected.
Sound familiar? Well for Sky customers this lifestyle is to become a thing of the past. While the high street is being abandoned by big brands, Sky is making a comeback. Last week, Sky< announced the launch of a chain of high street stores in the UK. 
High street, bye street
The high street as we know it has been dying for a while. By March 2020, only 29% of high street addresses were retailers. Offices now make up 11% of high street space in the UK. High street retail employment has also understandably been falling year by year.
Earlier this year, Virgin Media announced it's customer care is to become entirely phone based and online. The ISP said the pandemic had accelerated the move towards online customer service. Virgin, which had 140 stores in 2016 will close it's remaining 53 stores by the end of the year.
MoreNo more price hikes for Virgin customers
So, why are Sky opening a series of high street stores, especially during a pandemic? Well, the pandemic is the inspiration for the move.
Social hub
So what will the stores offer? The plan to launch a network of flagship stores offering unique retail experiences that go beyond selling packages. These stores will offer interactive experiences for customers, each store will also have a stage for customer events.
Five stores are planned to open in 2020, with further branches opening in 2021. The new Sky stores will also partner with iSmash, a tech repair company, to offer a phone repair service.
On the risks of COVID-19 for in store shoppers, a Sky representative said: "All shops will operate in line with the government's Covid-19 safety measures, including strict social distancing, mandatory face masks and hand sanitiser available across the shop."
Despite big brands like Virgin abandoning the high street, Sky isn't the only one making a return. Last year, BT revamped over 600 of it's retail stores in the UK. A return to the high street after an 11 year gap, BT previously closed its doors to the high street in 2004. They also relaunched EE's retail stores (BT bought EE in 2015).
So hopefully this is a sign that the new normal isn't here to stay!