The new homes with 1GB broadband connections
Why a new build offers your best chance for full-fibre speeds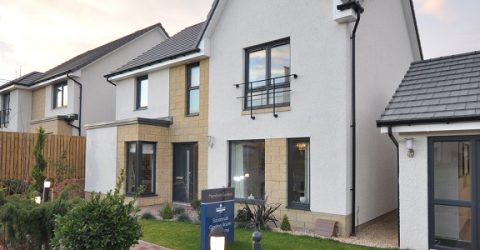 Imagine for a moment that you run a telecommunications company, and you're looking at a map of two housing estates.
They're the same size and contain the same number of dwellings. However, one has already been constructed, while the other is merely a series of planning documents and site drawings.
There's no question which of these two estates would be first to receive your approval for the installation of high-speed internet connectivity.
Rather than digging up pavements and having irate homeowners complain about blocked driveways, it's much easier to install cabling in bare earth, months before anybody moves in.
Working alongside housebuilders is cheaper and easier, and also negates trying to win over customers midway through existing contracts. Most new residents will need a new provider.
That's why new-build schemes often have high levels of Virgin Media subscriptions, if its fibre cabling was buried at the utilities stage of residential groundworks.
It's also why your best bet for ultrafast connectivity can often be found in estates where flags are fluttering outside a sales suite…
Getting the gig(abit)
The prospect of 1GB broadband connections might seem outlandish, yet some lines are even faster.
Virgin's Gig1 Fibre Broadband delivers average peak-time download speeds of 1,104Mbps, alongside upload speeds averaging 52Mbps.
In time, the entire Virgin network will incorporate this DOCSIS 3.1 infrastructure, and every customer will receive a gigabit-capable router for lightning-fast WiFi distribution.
For now, the company is rolling out Gig1 services around Manchester, Reading and Southampton, encompassing a number of new-build estates.
Nor is ultra-fast broadband in new homes a recent phenomenon.
Back in 2013, Story Homes launched a development in Carlisle with 1Gbps broadband connections.
The first residents of Crindledyke Farm enjoyed the UK's fastest domestic broadband connections, despite the estate being semi-rural and only part-finished.
Work is scheduled to resume next year on the remaining 600 properties at Crindledyke Farm, and buyers will have the option of 1GB broadband connections from day one.
Will all new homes get this treatment?
It's hard to provide a clear answer to that question at present.
Openreach is now refusing to install copper broadband in new-build sites with more than 30 plots, redirecting developers to the 1Gbps FTTP connectivity it's been pushing since 2016.
However, smaller sites remain exempt at the time of writing.
The most recent Queen's Speech last December promised to support the roll-out of gigabit-capable broadband, without going into much detail.
The Government has also pledged to amend legislation to ensure all new-build dwellings can support gigabit-capable connections, again without clarifying what "support" actually means.
For instance, there's already legislation that new developments must have empty fibre ducts ready to support cabling.
That meets the criteria of "supporting gigabit-capable connections", but it's of little use to residents moving into a brand-new home tomorrow.
Availability is also contingent on housebuilders incorporating 1GB broadband connections at the planning stages, and recognising the consumer benefits of doing so.
Developers generally have to request fibre cabling from Openreach or Virgin at least eight weeks before work starts on-site – a deadline which isn't always met.
Even so, many new homes offer connection speeds which owners of established properties can only dream of.
And the percentage of new-builds offering gigabit broadband is set to increase rapidly in the coming years.
That's worth considering if you're planning a house move and feel your existing broadband service isn't fast enough any longer.