Twelve cyber rules of Christmas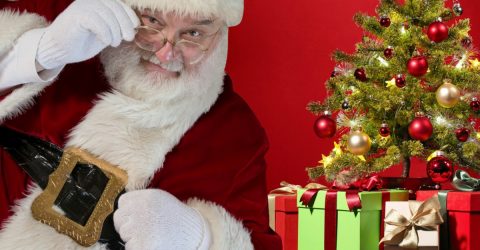 While we are busy unwrapping those must-have devices Father Christmas has brought down the chimney for you it is essential you take the time to make sure they are secure, and you don't inadvertently invite the grinch hackers in.
It's true that nothing can spoil the fun of unwrapping and playing with a brand-new device than trying to figure out how to do so safely and in privacy. But it is essential.
So, the cyber elves here at Broadband Deals offer the twelve rules of Christmas to ensure the privacy and security and peace of mind for your new devices.
1 Use a password manager
Pretty well all PCs, Macs, smartphones and tablets support the use of a password manager for generating and storing strong passwords. Even those that currently do not use such a manager directly, it is still useful to set-up, particularly those that support two-factor authentication.
2 Protect your router and wifi
While its straightforward to set-up a new router and wifi network we still need to make sure they are secure. Take the time to create a strong password and perhaps consider configuring them not to broadcast the SSID.
SSID is short for service set identifier. It is used as a name to identify a router to connect to. It is usually set as default with your new router.
3 Set up secure accounts
Make sure that everyone using the devices have their own regular user account with a username and password. And include one central administrative account for maintenance.
4 Stop that lost device becoming a nightmare
With so many portable devices available it is inevitable that they get lost. To prevent this becoming a nightmare make sure that pass codes are enabled, information is encrypted, the lost device location settings are turned on and that your data can be wiped if a baddy tries too many password attempts.
5 Protect data on smartwatches and personal fitness devices
These devices will contain sensitive personal data. So, along with enabling passwords and other basic security features, consider what data is being used and the cloud account its connected to has strong protections in place.
6 Securing your smart home
That new Internet of Things device you've been given will have their own security and privacy settings. It is considered good practice to research those before installing.
7 This includes home entertainment
Home entertainment involves the use of apps and not just devices such as smart TVs. Apps such as Netflix, Amazon and Hulu should have security measures such as password protection. Make sure to use them.
8 And game consoles
Games consoles are the same and involve both the security of the actual device and the security around any cloud-based accounts. Many gaming platforms include two-factor authentication and it is highly recommended to take advantage of this.
9 Configure user profiles for voice assistants
While still a new technology it has been found voice assistants can represent a potential security risk. It is highly recommended to take the time to configure individual user profiles as much as possible. Some devices can feature mute buttons for when not using the device and perhaps consider taking advantage of the feature.
10 Driving safely in your smart car
While at the top end of the techno wish-list, a smart car still needs to be approached in exactly the same way as any other device. Make sure that any connected smart devices have good security, especially when protecting against loss, theft or hack attacks.
11 Use smart speakers smartly
Smart speakers like voice assistant are voice-activated devices. So, they require the same security measures. For instance, if you use it solely to play music then consider switching-off its connection to the internet.
12 Keep on patching
This can be a pain, frankly but is essential. Patching is the most important thing you can do to keep on top of cybersecurity. Unfortunately, few of us like to get involved in the guts of the device and manage updates. But it is crucial and mostly done manually. So, no getting away from it you should learn to do updates on a regular basis.
Merry cyber Christmas to all.