Vodafone ready to splash cash on 5G, full-fibre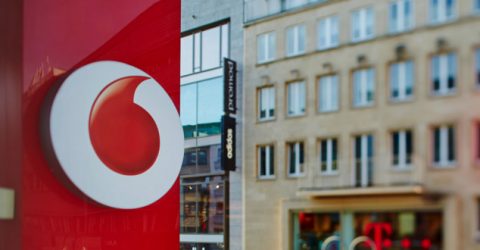 Vodafone UK CEO Nick Jeffrey has announced that Vodafone are ready to make a £1.8bn investment in laying full-fibre broadband connections to homes and businesses across Britain – if they can find partners to share the costs.
"We are a committed investor, our strategy is clear and if we can find the right economics and the right partners we'll invest here," he said at the launch of a report commissioned by Vodafone called 'Digital Super Towns, Unlocking the UK's digital potential.'
The report singled out 50 towns and cities including York, Bath and Atrincham in Manchester as being the ideal places to install full-fibre.
Altrincham, for example, is exactly the kind of place Vodafone would invest, because it has "widespread 4G coverage, a skilled workforce, and a cluster of digital businesses in close proximity to one another", the report said.
Full-fibre – not just any fibre broadband
Full-fibre is what fibre broadband should be – if ISPs were forced to sell what they could actually provide.
At the moment, BT and Vodafone and all the rest are allowed to sell a product called fibre broadband at 'up to 76Mbps' that doesn't actually use all fibre-optic cables direct into your home.
More: Germany just fixed broadband speed lies, so why can't we?
The last part of the connection, from street cabinet to your home, uses 170-year-old copper wires, which can slow your internet from a rush to a trickle.
Full-fibre is 100% fibre from source to your home, and promises much faster, more stable internet connections.
Billions in the bank
Britain's broadband infrastructure is dominated by network operator Openreach, which sells broadband connections to ISPs including Vodafone.
Last year saw Openreach legally separate from BT.
Openreach had been content to concentrate on deploying new technology to speed-up the 'last mile' of existing copper phone lines. But now they are open to co-investing in full-fibre connections.
Back in August Vodafone entered into talks with Openreach about a groundbreaking joint investment.
At the time Vodafone's CEO Vittorio Colao, a longstanding supporter of joint investment said: "We would be prepared to put some equity in a vehicle that could deliver fibre at good conditions to us and also to others, whether that is an independent Openreach or another company.
"If the investment is big, it is much better to share and then compete at the level of service."
One hurdle to a possible joint investment was Ofcom's ruling that the former state telecoms monopoly must sell access to its network on equal terms to all. It is understood Vodafone has been seeking an exclusive period on any new infrastructure.
Matt Hancock, the government's digital economy minister said the focus must be on full-fibre and 5G mobile broadband networks after the completion of copper-based networks.
He said: "The regulator Ofcom has legally separated BT and Openreach, and the test of that separation will be whether Openreach now works with other providers as well as with BT to provide the infrastructure for other retail companies to get out there."