Lampposts might be the future of home broadband
Broadband from lampposts might sound implausible, but it's already being trialled in Scotland.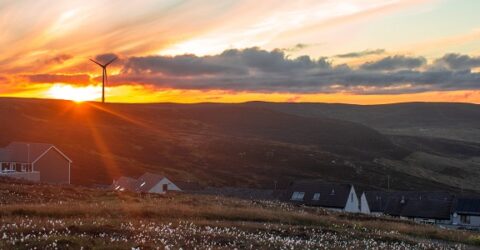 From ferry chaos to secession demands, there hasn't been much for the residents of Scotland's islands to celebrate in recent years.
Yet a pilot scheme currently underway on the sparsely populated Papa Stour might be showcasing the future of internet provision.
The concept of transmitting domestic broadband from lampposts seems bizarre, until you consider that lampposts are evenly spaced along the vast majority of the UK's highways and byways.
As such, they provide an ideal base for local high-speed internet provision, especially at the short-range higher frequencies capable of delivering exponential increases in connection speeds.
A mesh network of broadband-enabled lampposts could comprehensively service the overwhelmingly majority of urban, suburban and even rural dwellings.
If the technology works on the westernmost fringes of the Shetland Islands, it'll also work in more densely populated environments…
First past the post
The island of Papa Stour only has 23 residents, and its scattered whitewashed cottages have hitherto been stranded on the information hard shoulder.
While the technology being tested here is equally suitable in any environment, it arguably comes into its own in distant corners of the UK deprived of full fibre broadband.
The OneWeb satellite constellation, in which the UK Government has a golden share, will provide an alternative underpinning to the usual sub-sea cables.
It'll beam down high-speed connectivity to flat panels resembling repurposed BSB squarials, attached to the top of lampposts.
Multi-purpose lampposts will be installed, with capacity to deliver a variety of connected services including receiving data from Low Earth Orbit satellites.
Residential properties close to connected lampposts will then be able to access high-speed broadband, even if they are otherwise off-grid in terms of broadband infrastructure.
Other lamppost services might include mobile network coverage, EV charging and environmental monitoring.
It's even being proposed that these lampposts could underpin public WiFi networks akin to those found in city centres, removing the need for additional outdoor hardware.
Take a SIPP
The Smart Infrastructure Pilots Programme is a UK Government-funded initiative to test concepts like broadband from lampposts, establishing their suitability to be rolled out more widely.
It forms part of the government's Wireless Infrastructure Strategy, which is intended to drive greater adoption of cable-free infrastructure by the end of this decade.
It's anticipated that six small local schemes across the UK will procure and test smart lampposts, before reporting back on their performance and feedback from local residents.
The first commercial roll-out of its kind in Europe, the SIPP is part of a wider Alpha Trial programme, intended to establish whether LEO satellites can service remote communities.
While every country has sparsely populated regions, it's worth remembering that the Scottish Highlands alone are bigger than Belgium, yet home to a population smaller than Wolverhampton's.
Connectivity issues are exacerbated on the UK's 189 populated islands, where many ISPs have chosen not to install their proprietary networks on (understandable) economic grounds.
That means Openreach offer the only ground-based infrastructure, and islands have always been a low priority for the installation of high-speed cabling.
Being able to distribute broadband from lampposts would slash the considerable cost of installing underground cabling and laying all the necessary connective subsea infrastructure.
It could also be pivotal in the government finally meeting its broken pledges to deliver minimum connection speeds into every home in the UK.