Broadband customers face shock 43pc 'loyalty fee'
Citizens Advice has highlighted the shocking price increase broadband customers face when their minimum-term contracts expire.
The consumer advocacy group has dubbed the cost hikes a "loyalty fee" which punishes customers for sticking with their ISP after reaching the end of their contract.
In some cases customers are experiencing bills 43 per cent larger than the advertised price they were paying at the start of their contract.
Report: Decent broadband 'more important than hospitals or high streets'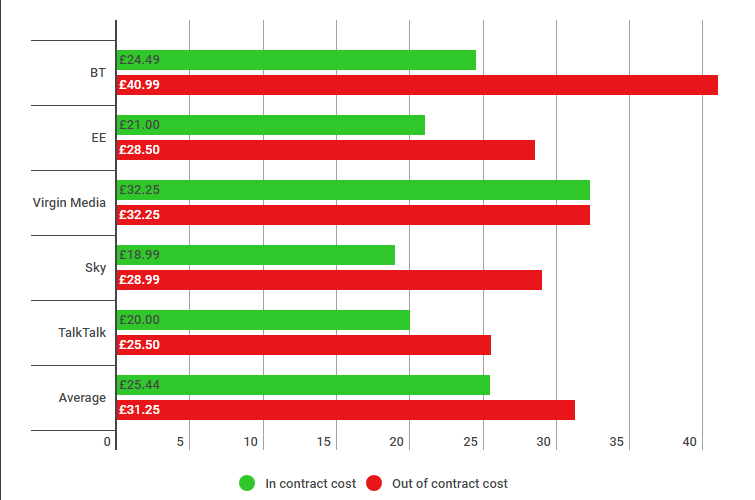 According to the report, home broadband customers are suffering the most from companies exploiting customer loyalty.
Of all the major ISPs, Virgin Media were the only provider to not increase the cost of their broadband when contracts roll over.
Unfortunately, Virgin Media coverage is limited so many people are stuck with ISPs who invoke a large loyalty fee.
BT fails broadband – yet again
BT is by far the worst offender – their basic broadband package going from £24.49 a month to a staggering £40.99 a month once a contract reaches its minimum term.
Last month BT were forced to cut landline bills for longest-serving customers after Ofcom found it was wildly overcharging mainly elderly customers.
And BT drew sharp criticism for topping Ofcom's latest broadband complaints list – a table no company wants to find themselves at the top of.
Guide: Top 5 no-contract broadband deals for 2017
What can be done to stop the 'loyalty fee'?
James Plunkett, of Citizens Advice, says it's down to lawmakers to put an end to this exploitative practice.
He says measures that could help correct the situation include:
Using targeted price caps to protect vulnerable people
Enforcing a ban on "the most egregious tricks" which tempt customers with a free deal before taking money directly from their bank account when the trial ends
Legally requiring contracts to be structured in a way that reduce the 'loyalty fee'
You may expect customer loyalty to be rewarded by companies in an effort to maintain your business year after year.
Instead, it seems ISPs are content to let thrifty customers switch between providers and deals while they prey on the unaware customers who are letting their contracts roll over.
More: How the Premier League is blocking Kodi football streams
This is on top of the fact that ISPs go to some lengths to hide the true cost of their contracts.
The report reveals that 35 percent of broadband customers are not aware of the price increases they face upon reaching the end of their contracts. These prices are not included in advertising and finding them often means sifting through the small-print on an ISP's website.
Unfortunately, it is the most vulnerable customers who suffer the most from excessive loyalty fees.
The report shows that those aged 65 and older are more than twice as likely than younger customers to have been on the same contract for over 10 years.
Plunkett adds that effective public policy will make "markets fairer and more competitive" as companies can no longer fake competition through low introductory rates, only to sting customers with higher prices down the road.