Peloton still high on Christmas wishlists despite post-pandemic struggles
The smart exercise-bike phenomenon has had a tough year, but for those with deep pockets Peloton is top of the leaderboard.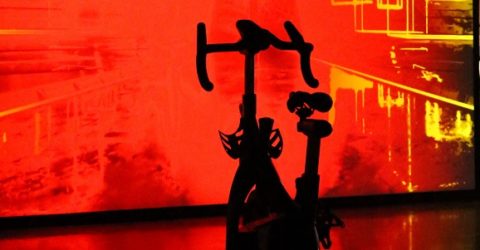 The rapid improvement in UK home broadband speeds are increasingly needed to support a growing roster of smart home devices.
From smart speakers to set top boxes, more and more home gadgets are using WiFi to communicate, update and provide additional functionalities.
Few examples are more iconic than Peloton, whose products have transformed the once-prosaic exercise bike market into an interactive connected experience.
Here's what you need to know.
On your bike, mate
The Peloton brand was an early beneficiary of crowdfunding platforms, with its inaugural stationary exercise bike funded on Kickstarter and released back in 2014.
Its innovation – and the brand's USP – was that instead of pedalling to nowhere, users faced onto a large screen which broadcast a huge array of archived cycling classes.
More excitingly, it was even possible to participate in live classes, hosted at the company's New York cycling studio.
This sense of community (and vocal encouragement from each virtual class host) quickly led to a thriving online community of fitness fans.
While you can use its two products (the unambiguously-named Bike and Bike+) as standalone devices, they're specifically designed to dovetail with the online content.
That means a two-part investment – acquiring the hardware itself, and subscribing to the online membership which brings access to those live-streaming and on-demand classes.
The cheapest package in normal times is the £1,345 Bike Basics setup, while the Bike+ Ultimate package will set you back £2,330. And that's before the £39 monthly membership.
However, during current Black Friday sales prices on some packages are drastically reduced, with savings of up to £500.
Don't forget though, that even with discounted hardware, All-Access Membership at £39/month is still a necessity to use all the bells and whistles your new bike is built for.
Without subscribing, the Peloton is little more than a passive exercise bike of the kind familiar from your local gym. You can't access third-party apps on the screens, either.
Private members' club
The Peloton membership package distributes an unlimited amount of live and pre-recorded content to the 21.5 or 23-inch HD touchscreens mounted on the Bike and Bike+ respectively.
One membership supports multiple household profiles, allowing each person to get personalised classes and recommendations based on their interests and activity levels.
An online leaderboard shows how you're faring against other members participating in the same classes, while real-time performance metrics chart your own progress.
Thousands of available videos range from short, sharp challenges to lengthy scenic rides, while you can ride virtually with friends as well.
Differences between the two bikes are minor. The Bike+ has a larger rotating touchscreen and better speakers, with a higher version of Bluetooth and extra RAM for faster processing.
Riders on the storm
It's fair to say 2022 hasn't been a successful year for Peloton so far.
A collapse in post-pandemic sales led to the company suspending production and mothballing long-awaited plans to move manufacturing from overseas markets to America.
A fifth of its workforce has been laid off, the CEO has resigned, and Peloton's share price has plunged in response to a series of PR setbacks and a $439 million loss in the final quarter of 2021.
A company worth an estimated $50 billion during the pandemic is now valued at just $8 billion, and a takeover bid seems inevitable.
That might deter some people from spending thousands of pounds on hardware with an uncertain future, though there's nothing to suggest accessing Peloton content will be affected.
And while numerous smart fitness manufacturers have recently emerged across the treadmill, bike and rowing machine markets, Peloton remains the original – and arguably the best.