Rural broadband scheme FAIL leads to £500,000 broadband quote.
The UK government pledged to get rural communities connected, but at what cost?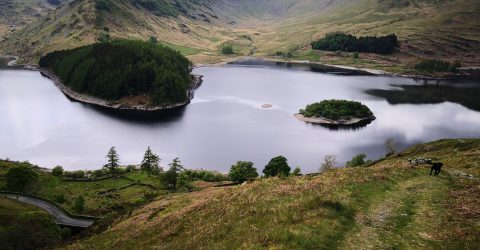 "How much?!"
After looking into the government rural connectivity scheme a Lake District resident was given a £502,586.40 quote. David Roberts said he was 'laughing out loud' when quoted over half a million pounds to connect his home to fibre.
It's no surprise to anyone that rural connections tend to be slower. But this year has really hammered home the importance of connectivity.
MoreOpenreach rural fibre rollout at risk
According to Ofcom, Brits spent almost 6 hours a day streaming during lockdown. At one point during May there were 770,000 of us using Zoom. Imagine trying to do that with the UK's slowest internet!
What does 0.9Mbps get you?
Roberts' Lake District home, near Cockermouth, is still running on copper cables. This means he gets an average speed of 0.9 Mbps (download). To put that into perspective, the UK's national average is now around 64Mbps.
So, what does 0.9Mbps get you? Well, not much to be honest!
To really tell you what that means; you need at least 3Mbps to use Netflix / 1.5Mbps for other streaming. Can you imagine lockdown without streaming?
Needless to say these speeds are way too slow for video chatting. For example, you need at least 1.5Mbps to use Zoom without issues.
During lockdown periods, where communities and families are cut off from each other, connectivity is more essential than ever.
RecentlyBad broadband leads customers to steal wifi
So the idea that years after a government pledge for nationwide connectivity, people are left with 0.9Mbps, is laughable.
USO – Unidentified Service Obligation
Earlier this year the government announced the Universal Service Obligation. According to Ofcom this means:
'Every home and business in the UK has the legal right to request a decent, affordable broadband connection.
From 20 March 2020, if you can't get a download speed of 10 Mbit/s and an upload speed of 1 Mbit/s, you can request an upgraded connection.'
Under the scheme people can get up to £3,400 funding towards the installation of broadband infrastructure in their area.
However, this hardly makes a dent into Mr Roberts quote from Openreach!
"Rural areas are being left out in the cold."
The impact of lockdown restrictions has clearly emphasised the difference between rural and urban community infrastructure. David Roberts added that "rural areas are being left out in the cold. The government's scheme clearly isn't working."
Openreach said that the reason for the quote was due to the distance of Mr Roberts' home from existing infrastructure. Interestingly, Roberts was quoted less (£380,000) to supply a group of 29 properties in his community.