TalkTalk broadband blasted by Ofcom as UK's most complained about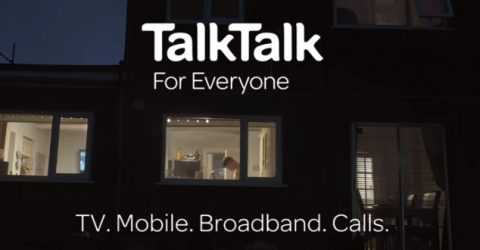 TalkTalk has been criticised after slipping further in the rankings to take the unwanted top spot of the UK's most complained about broadband provider.
Data released today by the industry regulator Ofcom shows how TalkTalk broadband generated the most customer complaints of any provider between July and September 2017.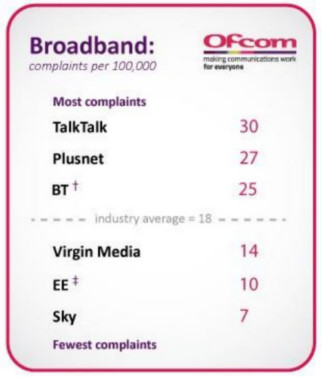 30 out of every 100,000 TalkTalk customers made a complaint about their service in the three months covered by the report.
The best-rated provider in the list is Sky, who generated just seven complaints per 100,000 customers.
It means TalkTalk takes over from BT as the UK's most complained about broadband provider.
What went wrong
The main complaints levelled at TalkTalk were around service faults and intermittent broadband, followed by the way the company handled complaints, as well as problems with billing, prices and charges.
TalkTalk has been roundly criticised for the number of complaints its broadband services generate.
In March 2017, solicitors acting on behalf of 20 UK consumers revealed that TalkTalk customers had been duped in a professional scam by Indian fraudsters to the tune of £100,000.
In December 2017, BroadbandDeals.co.uk spoke up on behalf over a former Tentel customer to secure an apology and refund for his being overcharged.
TalkTalk took over 40,000 Tentel contracts after the Scottish ISP collapse in November 2017.
It caps a bad year for TalkTalk, after it came dead last in the 2017 Which? Best Broadband survey.
TalkTalk down, BT up
Ofcom complaints data is released periodically, covering three months at a time.
Historic data stretching back to 2015 shows how BT and EE, whom BT bought out in 2016 for £12.5 billion, have seen significant falls in customer complaint numbers.
Prior to these results, BT were the worst-rated broadband provider for five quarters running.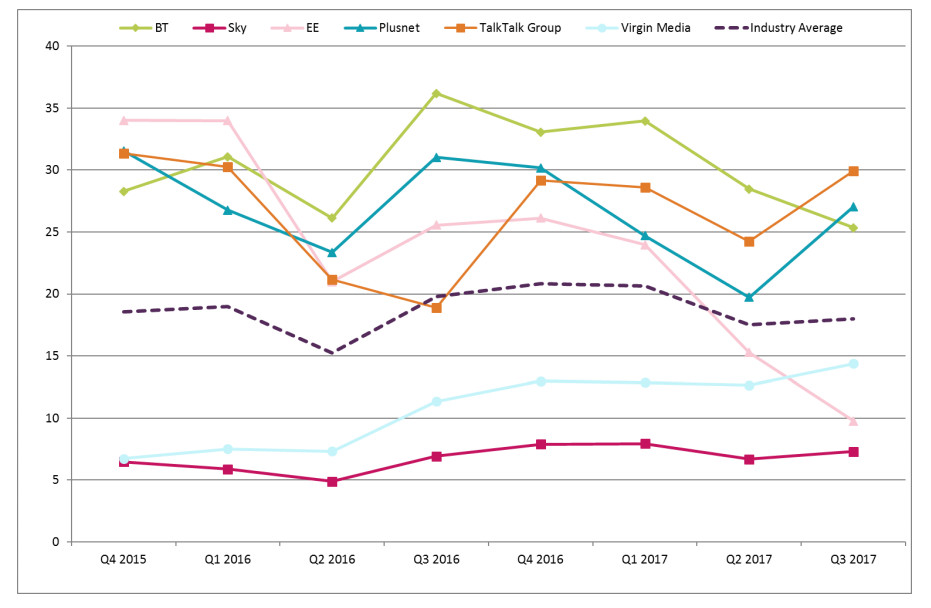 Where from here
In the Which? report, just 40% of TalkTalk customers were happy with their service and criticised sloppy technical support, overseas call centres and low levels of speed and reliability.
Speaking to BroadbandDeals.co.uk, a spokesperson for TalkTalk blamed the complaints figures on the "disruption" from the closure of an Indian call centre, and said they expected the number of complaints the service receives to drop throughout 2018.
"We are obviously disappointed by these figures.
"Ofcom's historical data covers a period last year (July to September) when we closed our customer service operations in India which caused some temporary disruption.
"That move, and a radical shift to self serve, has already delivered a material improvement in customer satisfaction and we expect complaint data for 2018 to reduce significantly."
MAIN IMAGE: TalkTalk/Youtube.com