The best podcast sites for 2021
With so much online content to choose from nowadays, finding the best podcast sites can be difficult if you don't know where to look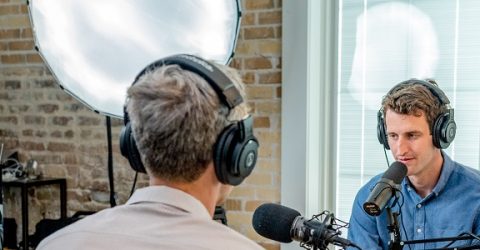 If the concept of podcasts has hitherto passed you by, you've missed out on a quite extraordinary modern phenomenon.
Podcasts are audio recordings broadcast online to enjoy while working, working out or travelling to work – though the latter is increasingly rare as our latest lockdown drags interminably on.
The majority of Americans adults listen to podcasts nowadays, while here in the UK, only on-demand music is seeing a more rapid growth in popularity.
With over ten million people in this country listening to a podcast every week, and over a million podcasts on Apple's podcast platform alone, where should you look for new content?
These are some of the best podcast sites, though it's worth noting many home-made podcasts are independently hosted and need to be sought out.
To use a 20th century analogy (since most Millennials are already podcast-savvy), think of these as home-made cassettes compared to the shrink-wrapped tapes on sale in music stores.
Best content hosts
The obvious place to start looking for podcasts (which are generally listened to on smartphones and tablets) is in an app store.
And where better for iOS users to begin than Apple Podcasts? There are over a million shows, with 30 million episodes waiting to be downloaded or streamed.
Google Podcasts is Android's alternative, with an uncomplicated interface based on curated category-by-category recommendations.
Other highly-rated podcast players include Acast and Podcast Republic (both receiving 4.6 stars out of 5 in the Google Play Store).
These are often multifunctional – the multi award-winning Castbox also hosts radio and audiobook content, as well as over 340,000 free podcasts.
Another multipurpose platform is Spotify, where you can listen to everything from fusion jazz to djent metal without downloading or buying a single MP3.
Spotify's podcast collection is split across 12 main categories from Arts & Entertainment to True Crime, encompassing sub-sections like RPGs, football and meditation.
Best content publishers
Of course, some people are creators as well as consumers. They need a platform which will (a) host their content and (b) syndicate it to bigger directories like Android Podcasts.
Look at freemium hosting platforms like PodBean (free storage up to 500MB), BuzzSprout (two hours of free uploads per month) and SoundCloud (three hours of audio in total).
If you're happy to pay a monthly subscription, AudioBoom offers detailed audience analytics, while Libsyn allows subscribers to build their own podcast apps for Android and iOS.
GuideHow to start making money on patreon
As a general rule, you'll need 10,000 regular listeners to start earning revenue from a podcast, but many people see this as a hobby or philanthropic venture rather than a revenue-raising one.
Other money-making paths include product placements and affiliate marketing, sponsorships and crowdfunding – though again, you'll need decent audience figures.
In terms of achieving this, guest appearances on other people's podcasts are recommended, while dedicated social media channels should promote your material at every opportunity.