Tomorrow's cars will make home broadband truly mobile
In-car communications technology is increasingly dovetailing with the platforms and providers we rely on at home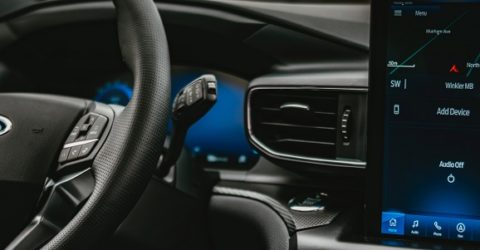 On average, it takes four years for a car manufacturer to develop a new model.
In terms of consumer technology, that might as well be a lifetime.
At the start of 2012, the BlackBerry OS held 33 per cent of the UK smartphone operating system market. By the start of 2016, it had collapsed to just six per cent.
Any car manufacturer setting to work in 2012 on a new model would have found the smartphone market radically changed by the time their vehicle finally debuted.
We've seen similar trends in reverse regarding consumer technology, with wearable fitness gadgets and social media platforms experiencing meteoric year-on-year growth.
Little wonder that in-car communications technology often lags far behind consumer trends – when it's been incorporated at all…
Upwardly mobile?
For many years, in-car communications technology began and ended with Bluetooth.
Concepts we now take for granted like USB file sharing and 4G WiFi were unimaginable not so long ago.
With honourable exceptions like the Mercedes-Benz S-Class (which has historically debuted many technologies that subsequently went mainstream), most cars were information blackspots.
Today's in-car communications technology is bridging the gap, with many vehicles now supporting over-the-air software updates and USB inputs.
Android Auto and Apple CarPlay bring features such as Google Maps directly onto your dashboard, as well as supporting media files and messaging applications.
You can use phone apps to start and pre-heat/cool electric cars remotely while they're charging, which maximises driving range once they're unplugged.
Cameras inside higher-end vehicle cabins even respond to gestures. A rapid downward hand movement can do anything from confirming an instruction to turning the radio off.
However, tomorrow's cars will be more than mere smartphone mirrors or movement sensors. They'll be extensions of our homes…
Every car's a smart car
Car manufacturers have responded (belatedly, as always) to the burgeoning popularity of Alexa by incorporating Amazon's smart speaker software into their vehicles.
This dovetails with smart speakers in our homes, providing real-time updates and information both domestically and in transit.
It's only in the last couple of years that manufacturers have begun offering wireless Android Auto, but even this cable-free interface will quickly become superfluous.
Tomorrow's in-car communications technology will sense when a phone enters the car, and switch to displaying important data like notifications on the dashboard.
The dashes themselves should continue to evolve away from proprietary buttons and dials towards the portrait touchscreens seen in Volvos and Chryslers.
Other interface methods might include the rotary dials found in Mazdas and BMWs, or the handwriting recognition adopted by Audi and Mercedes.
However, natural language speech will become the dominant form of vehicular control, in the same way smart speakers and TV sets have evolved to become almost button-free.
We'll be able to set cabin temperature and read notifications as we do in smart houses, though light sensors mean we shouldn't have to tell the headlights to come on.
Just as streaming services allow you to continue watching a part-viewed file on a different device, our cars will take over music output or phone calls as we open the door.
The goal among car manufacturers and software providers alike is to create a cohesive and seamless user experience across our homes, cars and mobile devices.
That's unless we're driving, when certain functions will automatically be disabled (for the driver, at least).
The emergence of 5G (itself potentially acting as a unified source of indoor and outdoor connectivity) should provide boundless bandwidth for everyone else.