UK broadband 'worse than Romania' – Akamai
Fewer people in the UK can get decent broadband than in Latvia, Hungary or Romania, a new industry report says.
Akamai's State of the Internet 2017 rates how many people in a country can get broadband speeds faster than 4Mbps.
MoreUK to get legal right to decent, affordable broadband
Just 92 per cent of people in the UK can get this admittedly meagre speed, which leaves more than 5 million people across the country with slow or unreliable broadband.
UK broadband fails to make Top 10
The UK has only the 12th best broadband in Europe, worse than far less wealthy nations.
While overall speeds are increasing slightly year on year, by around 1 per cent, the UK sits 29th in the world league tables.
For comparison, 97 per cent of people in the tiny island nation of Malta, 96 per cent of people in Bulgaria, and 93 per cent of people in Romania can get an average 4Mbps broadband.
How about 10 or 15Mbps?
Only 60 per cent of people in England, Scotland, Wales and Northern Ireland can get 10Mbps, and that drops to paltry 42 per cent when Akamai measured how many people can get 15Mpbs.
More encouraging is that the average number of people in the UK who can get these faster broadband speeds is rising by more than 10 per cent every year.
The average broadband speed in the UK is rising year on year with the average consumer getting 16.9Mbps, according to the report.
This suggests that broadband speeds continue to vary wildly depending on which country and which area you live in.
4G faster than fixed broadband
Fixed broadband is falling far behind 4G mobile data speeds, Akamai has found. While the average UK consumer can now get broadband at 16.9Mbps, UK mobile users have the fastest 4G in the world with average 26Mbps.
It indicates that in future more people will be using their smartphone than a traditional fixed broadband router to connect to the internet for work or entertainment.
Error: No such provider found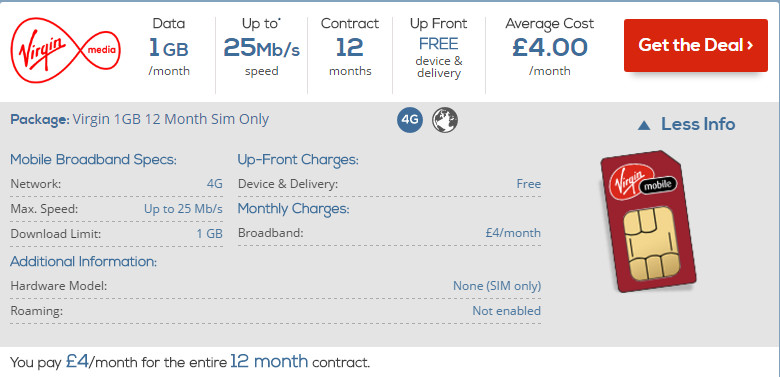 For example, Virgin's most popular mobile broadband deal offers 1Gb of data per month on a 12 month deal with 4G speeds up to 25Mbps for just £4 a month.
Cause for optimism?
Akamai reckon there is cause for optimism despite the UK government's frankly unambitious attempt to get 97 per cent of UK homes able to access broadband speeds of at least 24Mbps by 2020.
These include Virgin's move to boost its standard speed from 50Mbps to 100Mbps and introducing the fastest home broadband deal, the VIVID 300 solus, with speeds of 300Mpbs.
And the government adding an extra £200m into the pot for fibre broadband development, announced at the last UK budget.
"While the United Kingdom sits in the middle of the pack for broadband adoption among European countries, the first quarter saw numerous announcements that marked progress for the Broadband Delivery UK initiative," say Akamai.
Boutique broadband firms like Gigaclear and Hyperoptic are hoovering up customers on new-build housing estates with fixed-line FTTP 1Gbps speeds.
More: Gigaclear gets £111m to make rural broadband faster
More: 8,000 in rural Herefordshire getting Gigaclear gigabit broadband
Hyperoptic plans to reach more than 500,000 homes with gigabit speeds by the end of 2019.
"In the United Kingdom, BT announced a rollout of its 330 Mbps service to 138,000 premises throughout the country, with full commercial deployment expected in the second half of the year. BT expects to reach 10 million homes and businesses with the service by 2020," Akamai adds.
And communities are bypassing the national slow-down by sorting out their own broadband, the report notes.
"Also in the first quarter, BT announced the 200th community served under its Community Fibre Partnership program, whereby underserved areas co-fund the cost of deployment with BT in order to bring fast broadband service to their locale.
"Through the program, BT has brought service to 20,000 hard-to-reach premises across the UK."
Despite these gains, the country still has a very long way to go to catch up with its European neighbours.
Check the fastest broadband speed you can get in your area with our handy postcode checker