Why are we still building homes without gigabit broadband?
The prospect of receiving gigabit broadband in new homes is highly appealing, but it's not something you can take for granted yet.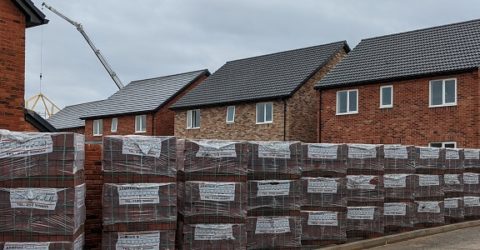 A year ago, we reported on how many new-build homes were being sold with ultrafast full-fibre broadband.
Based on 2020 data, the answer was 90 per cent, and this figure hasn't changed over the last twelve months.
That's disappointing when you consider the UK Government is keen to see gigabit broadband connections in new homes across the board.
Indeed, in 2021, Westminster decided to amend existing building regulations to ensure all new homes were gigabit-enabled.
So why aren't they?
Old news
Contrary to popular belief, internet connections capable of data throughput at one gigabit per second are nothing new.
It's been nine years since the UK's first new homes were fitted with 1Gbps connections.
The Government admit that one in ten new homes are still being sold with line speeds below this, though exact figures are hard to calculate.
Smaller builders don't always contribute to national statistics on gigabit broadband in new homes, while membership of the National House Building Council remains voluntary.
To complicate matters further, housing policy is devolved, and statistics aren't collected equally around the four Home Nations.
Different approaches
Builders are being encouraged to mitigate installation costs by partnering with a digital infrastructure specialist, or by developing their own network.
Back in 2013, Story Homes teamed up with Grain Connect, piping gigabit broadband to a new-build development for the first time.
Persimmon took things in-house in 2018 by setting up FibreNest, dovetailing internet connectivity with other build stages to ensure connectivity from the day residents move in.
Last year, Barratt became the first housebuilder to promise gigabit internet as standard across every new development, partnering with everyone from Openreach to Virgin Media.
Today, all three builders offer gigabit broadband in new homes as a matter of routine, though consumers can specify slower connections to save money.
We've previously explained why you shouldn't necessarily pay for the fastest connection available.
What's happening in Parliament?
A 'technical consultation' closed in February, encompassing wider issues such as whether residential conversions of existing buildings should be included in this legislation.
Since then, there has been radio silence.
The government has had a lot going on lately, but its promise to lay secondary legislation before Parliament 'as soon as possible' has foundered on the rocks of a leadership election.
Once legislation is enacted, as we assume it inevitably will be, it would apply to all new and self-built homes in England.
It's hard to imagine the devolved administrations would be happy to see England stealing a march on them, so mirror legislation ought to follow fairly swiftly.
National builders would also want to standardise their broadband offerings throughout the UK, for economies of scale and PR purposes.
The answer to our original question, then, is once Parliament has a chance to vote on making gigabit broadband in new homes compulsory.
It's hard to see many MPs voting against it, although the implementation period will inevitably last for a few years.