BT inLink free WiFi boxes hit 100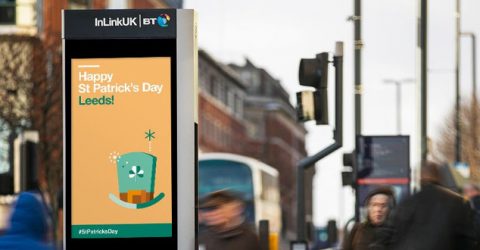 BT has installed its 100th inLink kiosk offering free WiFi, phone calls and internet services on busy high streets.
The kiosks were launched on 14 May 2017, with the first machines installed across the tourist-centric borough of Southwark.
Now BT says 49,000 people have signed in to the free WiFi in the past 12 months.
The 100th InLink is in Wandsworth, London and they have so far been installed across seven London boroughs.
Leeds was the first city outside the capital to see the boxes installed. Manchester and Birmingham are being considered for the next stage of the rollout.
Users have streamed enough data to download more than seven million songs, say BT, as well as making 305,000 calls.
Wandsworth in London is the latest location for inLink, but outside the capital the kiosks have been rolled out in Leeds as well.
While the name has shifted from LinkUK to inLink, the devices do the same job: pumping out fast free WiFi to hundreds of users within range.
Other free services include being able to make UK landline and mobile phone calls, as well as offering online maps, local directions and fast mobile phone charging stations.
It's a 21st century replacement for the dying BT telephone boxes, which – if they've not yet been removed from your local high street – are a magnet for vandalism.
inLink is a joint partnership between BT, Google-backed tech firm Intersection, and advertising company Primesight.
Happily, it all comes at no expense to the taxpayer, as each kiosk is paid for by advertising on the two 55-inch screens.
Oddly enough the free WiFi kiosks whipped up a storm of controversy when they were introduced in New York in 2016.
City officials were inundated with complaints that they attracted anti-social 'loiterers' and beggars, with crowds gathered around the kiosks for hours at a time to use the superfast internet connection to gamble online or watch porn.
Our British counterparts may simply be more reserved in public as there is no record of any such complaints over here.
Until 10 years ago, every high street, market town and village had a BT payphone box.
MoreSky to launch high street hubs
But with the advent of mobile phones and the expectation of getting WiFi on the move, these once proud landmarks fell into disrepair.
BT tried to assuage fears of a mass sell-off by saying it had no plans to remove the remaining K1 red telephone boxes, many of which are Grade-II listed to prevent them from being altered or knocked down.