Homeworking boosts Britain's productivity.
A new survey finds that the working week is getting done in 4 days!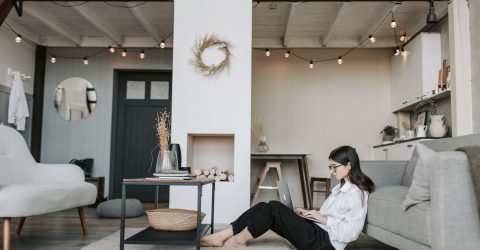 Lockdown Lessons
A new study commissioned by ISP Talk Talk has found that the working week could be slashed to 4 days for many of us!
The Lockdown Lessons report was carried out by Fly Research and Working the Future. The study spoke to 1000 people and 250 business leaders in August. So the respondents have had some months to process 'the new normal' and what it means going forward.
So what lessons could be learned from the Lockdown Lessons report? Well it seems 2020 could be the year that changes working life for millions.

MoreIs UK broadband fit for a work from home world?
According to results many of us are happier and surprisingly more productive working from home! Did we need a survey to tell us that? Probably not! But it's nice to have some evidence to give to your boss when they ask you to come back in!
Life under lockdown.
There were some obvious findings about life under lockdown. Over half surveyed said that 'Fast, reliable broadband' was ranked as the second most important thing to them during lockdown. Having a garden came out on top with 59% of people ranking it as most important.
Surprisingly both beat out online shopping and having a large home! Though we'll see if these priorities remain the same during winter!
A third said they developed a new skill. And 10% of respondents started an online side job as a way to generate extra income.
Big if true.
Two of the biggest claims were mixed. A whopping 58% of Brits said they were more productive as a result of working from home. This is big if true. Productivity can be measured by your output. So this is actually provable if you do want to make the case for permanent remote working.
About a quarter of those surveyed said they've even been using the extra time for self improvement by learning a language. While 18% said that they've been working on their IT & digital skills.
Both of these statistics are good not only for the people surveyed, but for employers. Employees with extra language and tech skills, means easier businesses can work with international clients and cut down IT costs.
More33% of UK suffer poor connection during lockdown
Over half surveyed (52%) said that they never expect to return to a five day week in the office. Again, big if true – but remember, it's just how people feel. This isn't backed up by fact – how do these people know this? It could just be wistful thinking on their part. Sorry!
Broadly(band) speaking.
It seems business leaders are keen to adapt to the new state of work. Around half of those surveyed said they would invest in digital skills for staff. Almost a quarter said they would invest in home broadband for staff, should they pivot to remote working long term.
When asked what the most important factors are for effective working from home, 81% said safe, fast and reliable broadband connection.
So it's easy to see why ISP's like Talk Talk and Virgin are beginning to look at business lines for homes in new ways. Who knows where we'll be in a years time? Well, for half of us probably still on the sofa!