Is it time to introduce broadband labelling?
The concept of broadband labelling could simplify the market, bringing regulation similar to other consumer products to internet access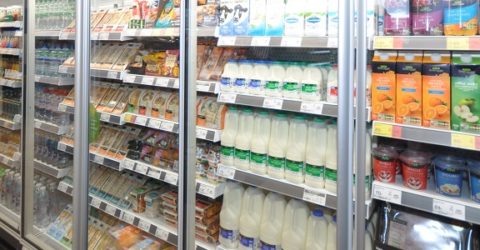 It's easy to overlook the amount of labelling that surrounds us on a daily basis.
Walk into a shop, and you'll see vast arrays of packaged goods in wrappings that have to detail everything from weights and ingredients to allergy information and best before dates.
Most of this is legally required, though some of it is volunteered to provide reassurance or encourage a purchase.
For instance, orange juice manufacturers don't have to emblazon their cartons with "pure fruit juice – not from concentrate", but doing so demonstrates a higher quality of product.
Accurate and informative labelling ensures consumers know what they're purchasing – something which has tripped up many home broadband customers in the past.
Indeed, it's been suggested broadband labelling could add much-needed clarity and regulation to an industry that often baffles consumers with acronyms, averages and caveats.
So is it time to apply labelling data to broadband services?
The only label to be seen in
The idea of broadband labelling has been discussed many times in the past, but a recent survey commissioned by ISP CityFibre has lent it new impetus.
The survey suggested clear and accurate labelling information for broadband products could lead to a 40 per cent increase in the adoption of full fibre services.
Its findings mirror a previous YouGov survey, which found 52 per cent of 3,000 consumers believed their home had full fibre, even though 82 per cent of properties can't receive it yet.
These surveys are being studied by a UK Government taskforce which is considering ways to increase the adoption of gigabit-capable broadband among consumers and businesses alike.
How might this work in practice?
Broadband isn't purchased at a petrol station or scanned at a till, so the labelling in question would be delivered via PDF or as printed documentation, rather than traditional packaging.
It'd define terminology and translate industry jargon – when asked, almost half of the YouGov survey respondents couldn't explain what terms like gigabit or ultrafast mean.
It should also set out the minimum expectations consumers might have of a new broadband service, such as minimum and/or average upload/download speeds.
It could even provide illustrations of what a typical individual or household might require from their connection, assisting them in choosing a suitable package.
More33% of UK households suffer poor broadband connectivity
For every household stuck on inadequate ADSL broadband, there's likely to be another failing to exploit the speed and bandwidth offered by their full fibre service.
Broadband labelling would simplify ISP advertising, while potentially reducing complaints from people feeling they'd misunderstood the package they originally signed up to.
It's even been suggested consumers would be willing to pay more to receive otherwise-identical services if they were clearly labelled.
With clear benefits for suppliers and recipients alike, the campaign to develop a national labelling scheme for broadband services may finally be gaining some welcome traction.