Plug and play broadband is transforming internet access in flats
Getting online is becoming simpler for residents in blocks of flats thanks to centralised broadband.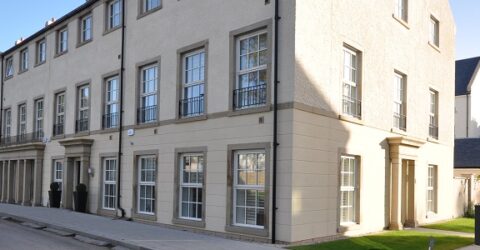 If you live in a house or bungalow, your choice of broadband infrastructure is usually extensive.
If full fibre companies have cabled your street, you can request a connection. If high-speed Openreach cabling extends to your local exchange, you can take your pick of broadband providers.
Yet the residents of flats are often less well served.
Although it's more cost-effective to supply a full fibre broadband cable into a block of flats than a single house, wiring up each property in an apartment building can be complicated.
Matters are often exacerbated by leasehold, properties owned by remote landlords, planning restrictions or simply the physical challenges of making connections several storeys up.
From granite in Aberdeen to Portland stone in London, many residential buildings weren't built with the subsequent installation of cables in mind.
Your correspondent once watched a telecoms engineer burn through three drill bits trying to extend a telephone cable through one internal wall in a solidly built apartment block.
Fortunately, forward-thinking developers and broadband utility companies are now working together to simplify internet access in flats, using something called plug and play broadband.
Plug in baby
As its name suggests, plug and play broadband creates a single digital infrastructure within blocks of flats – known in the industry as MDUs, or multi-dwelling units.
A solitary cable is fed into a splitter box – a plastic case smaller than a sheet of A4, where the full fibre connection is divided into separate streams for each property within the building.
A high-speed cable will lead into each flat, delivering a standalone connection independent from any neighbours.
The only shared infrastructure is the cable leading from outside and the splitter box itself, which will be mounted in a public area for ease of maintenance.
Openreach describe the connection speeds available to tenants as ultrafast, while full-fibre infrastructure specialist Complete Fibre describe end-user speeds as hyperfast.
Obviously, this is dependent on the calibre of local broadband cabling. Even gigabit cables in a block of flats won't improve the speeds achievable through the local exchange.
It's only an option in fibre enabled areas, though the urban and inner-suburban nature of most flatted dwellings means there's a very high likelihood full fibre will be available.
What are the benefits of this?
Installing a single unified broadband infrastructure into a building is more efficient in many respects:
The companies installing plug and play broadband effectively create a bridge between landlords/developers/property managers and the ISPs capable of supplying residents.
From a consumer perspective, anything that leads to faster and more reliable internet connections is to be celebrated.
Plug and play connectivity is usually incorporated into modern buildings, but it can also be retrofitted in older blocks – providing the freeholders approve.
It's one of the best ways of giving people in flats the same choice of broadband provider enjoyed by the residents of houses and bungalows.