Scottish broadband speeds are the best – and worst – in the UK
A new survey reveals Scottish broadband speeds vary hugely, but the reasons why are surprisingly complex.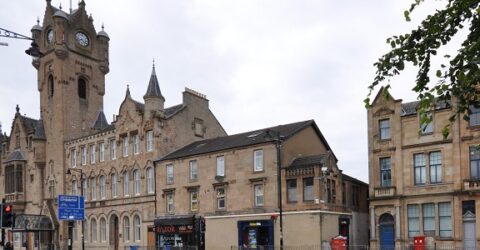 Scotland has long been a land of dramatic contrasts.
An hour west from the post-industrial heartland of Rutherglen (where the above photo was taken) stands the jagged beauty of Argyll. An hour east, and you're at the picturesque East Lothian coast.
From pockets of great wealth (Edinburgh New Town, west Aberdeen) to some of the UK's worst deprivation (central Greenock, Glasgow's east end), Scotland's economic demographics are equally varied.
It's now been reported that Scottish broadband speeds include the highest and lowest average connection speeds in the UK.
So what's causing these huge disparities in Scottish broadband speeds? And what can residents of under-performing areas do to improve their broadband performance?
The best and worst
The picturesque Renfrewshire village of Lochwinnoch can claim the fastest average household broadband speeds in the UK.
Lochwinnoch's average domestic connection speeds of 409.2Mbps were comfortably the quickest of the 250,000 speed tests conducted nationally.
That's almost three times as fast as connections in the best-performing UK city, Belfast.
(Belfast's figure of 152Mbps was 30Mbps ahead of the next fastest city, Portsmouth. It was also five times faster than the slowest city – Canterbury.)
We've previous outlined the connectivity challenges across the Scottish Highlands, so it's perhaps unsurprising that the remote Caithness village of Halkirk returned the worst results.
What's more surprising is the average connection speed in Halkirk dwellings stands at just 2.8Mbps.
That's a quarter of the speed you might normally expect from an ADSL connection, and it's far below Ofcom's 10Mbps minimum broadband universal service pledge.
However, requesting an upgraded connection from BT offshoot Openreach won't be straightforward.
Halkirk's proximity to the A9 doesn't accurately reflect its position on the information hard shoulder, with minimal fibre infrastructure nearby to tap into.
Those quoted speeds also relate to downloads, with uploads likely to be a fraction as fast. Sending large emails or uploading significant data to the cloud would be effectively impossible.
For reference, superfast broadband (more than 30Mbps) is available in 97 per cent of homes, while three quarters of UK households are able to sign up to gigabit-capable connections.
What can I do about slow broadband speeds?
If you're struggling with slow Scottish broadband speeds (or sluggish connections elsewhere in the UK), your options are limited.
You can petition Openreach for a connection upgrade, or investigate forming a Fibre Community Partnership with like-minded neighbours and local businesses.
This can bring ultrafast full fibre broadband to a small community, with connection speeds of up to 1Gbps.
It's often the case in rural regions that mobile broadband offers faster speeds than hardwired connections, so a mobile broadband dongle or MiFi hub might be a faster (if costlier) solution.
Satellite broadband can reach even the most isolated locations, and is likely to fall in price following the recent Eutelsat/OneWeb merger.
Satellite connections have historically been prone to weather interference and they've also suffered from latency, making them relatively unsuitable for activities like online gaming.