The best places to watch football this season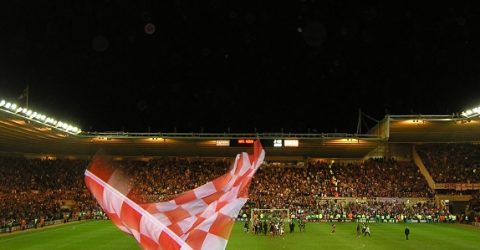 When Watford and Middlesbrough kick off the 2020-21 football league season next Friday, they'll do so without the usual sea of black/yellow and red-shirted fans roaring them on.
Like the pre-season friendlies that have preceded this strangest of campaigns, stadia up and down England will remain fan-free zones for the foreseeable future.
There had been hopes that a test event at Celtic Park would provide the Premier League and EFL with some guidance, with a thousand supporters due to attend a Motherwell match last month.
Sadly, the Scottish Government pulled the plug at the last minute, meaning we have yet to see how watching live football in a stadium works post-Covid.
However, that doesn't mean this season will resemble pre-Premier League campaigns where fans often had to buy the next day's paper to find out who scored.
Indeed, there are plenty of ways to follow your team while watching live football – just not at the grounds…
Watching on TV
For the 2020-21 campaign, broadcasting rights remain shared between Sky and BT Sport, with 22 matches screening on Amazon Prime (more on that below).
Sky will show 140 Premier League and 130 EFL matches, while BT Sport is broadcasting 58 PL games alongside every UEFA Champions League and Europa League match.
Sky and Virgin customers can sign up to watch every football channel, while BT TV customers are able to turn platform-specific sports subscriptions on and off at any time.
The BBC's Final Score continues its historic role of offering live score updates, while Auntie will also broadcast a number of FA Cup games, sharing coverage with BT Sport.
Watching online
Broadcasters allow subscribers to watch live sport (and subscription-free shows like Gillette Soccer Saturday) via proprietary smartphone and tablet apps – Sky Q, Virgin TV Go, etc.
This is the second season when Amazon Prime TV has attempted to muscle in on the action, though watching live football via Amazon is very much all-or-nothing.
For two weeks of the Premier League season in December, Amazon plan to show two full game weeks exclusively online.
Last season, BT Sport was given a three-season contract to broadcast these games in commercial premises, using existing hardware.
Watching via club services
Despite the season being a matter of days away, many clubs have yet to confirm whether – let alone how – fans can follow their team home and away.
Larger clubs have previously established proprietary online streaming services, which were traditionally marketed on a pay-as-you-go basis. However, results tend to vary.
Audio commentary may be provided by the club or a local radio station, while video streams are notoriously prone to freezing and sometimes involve a single camera with no replays.
Sky are offering streaming services for EFL clubs at £10 a go, covering home matches and midweek away games, while the same service is available for many Carabao Cup games.