Why streaming content is splintering across numerous platforms
Streaming content platforms are on the rise, even as the number of people able and willing to pay for them begins to decline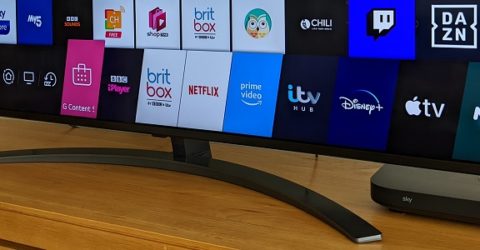 If you've ever found yourself overwhelmed by the choice of programming and movies available on a streaming media platform, you're not alone.
This choice is now being complicated further by a growing array of streaming content platforms, each with their own roster of material.
Throughout 2022, a number of brands will launch into an already highly congested British streaming sector.
So what's causing this seemingly endless growth in broadband-dependent streaming services? And where will it ultimately lead?
Streaming content platforms on the rise
In the beginning, there was Netflix. And it was…a DVD postal service.
By coincidence, Amazon Prime Video also evolved from a mail order service, and it's still bundled in free with an annual subscription to expedited Amazon shopping delivery.
Today, these twin titans of streaming are being assaulted on all sides by companies who want to emulate their success.
Foremost among these rivals is Disney+, which owns the rights to Marvel, Pixar and National Geographic content.
Despite only launching in 2020, Disney+ is now the UK's sixth-biggest streaming service, behind the BBC iPlayer, Channel 4's All 4 service and YouTube.
Rounding off the top ten are other home-grown platforms – ITV Hub, Sky Go and NOW TV, which is effectively Sky without the dish or live broadcasting.
However, it's the new and forthcoming market entrants which really demonstrate how streaming content platforms are saturating an already mature market.
I know my rights
At the heart of all this stands the complex issue of ownership rights, typified by the phenomenon of withdrawing formerly syndicated content from rival services.
Today, you can watch The Big Bang Theory on Netflix. By the end of next month, it will be withdrawn by the Paramount network that created it, and shown on Paramount Plus instead.
This will also be the home of every Star Trek episode ever made, as well as other Paramount-specific content including a Grease prequel series and a spin-off from the Halo video game.
Arch-rival Peacock is channelling its own exclusive content (including The Office, Battlestar Galactica and a revamped Saved By the Bell) through Sky and NOW.
Apple TV+, BritBox and Discovery+ all have their own original programming too, designed to seduce potential subscribers alongside archives of popular shows/movies/documentaries.
Even sports coverage is fragmenting. We recently reported that Scottish, Welsh and Northern Irish international football coverage is shifting to a Scandinavian streaming service called Viaplay.
From children's cartoons to dramas and documentaries, more and more content is being paywalled by different companies. And the problem with all this is the sheer cost.
Paying a high price
Every platform levies its own fee, with its own subscription model, paperwork and list of compatible hardware.
A monthly Peacock pass costs £9.99 a month, while Paramount Plus will charge a Netflix-rivalling £6.99 per month.
Amazon Prime and Discovery+ require annual payment up front, whereas NOW and BritBox can be cancelled after a month without incurring any penalties.
At a time of spiralling inflation and growing money worries, few households have the financial resources necessary to subscribe to all these services, even if they wanted to.
That's especially true if you already have Sky, which is defending its market share with a slew of high-calibre original drama and documentaries, plus renewed sports coverage rights.
Consumers are going to have to make tough decisions about which platforms to subscribe to, especially if overseas-only services such as HBO MAX arrive on our shores as well.
Some of the current and forthcoming streaming services won't survive for long, in the same way ITV Digital and CNN+ folded – the latter being shut down just one month after launch.
With Western markets for streaming services already saturated and (by many measures) contracting, the attrition rate may be high in the next few years.
This might even lead to a resurgence in DVD sales, letting people enjoy their favourite box sets at any time, regardless of which platform presently holds UK broadcasting rights.