The next generation of streaming technology is here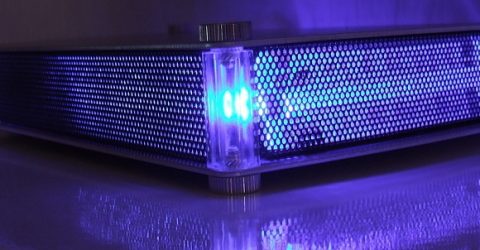 For technology fans, the Berlin IFA conference is an annual highlight.
Europe's biggest consumer tech trade show ran for almost a week this September, and as usual, it provided tantalising glimpses of what we can expect from tech in the coming year.
But amongst all the smartphones, speakers and gaming laptops, one area stood out as being particularly exciting.
The world of smart TVs and other streaming devices is heating up nicely, and the next 12 months look great for anybody who enjoys top-quality multimedia.
If that's you, it may be time to make sure your broadband connection is up to scratch, before deciding which of the next generation media streaming tech will take pride of place in your home.
Next gen smart TVs and streaming services coming soon
Among the highlights of IFA 2019 was JVC's new Fire TV Edition 4K TV.
This is the first set to be sold the UK with Amazon Fire built in, although the format has been around in the US for some time.
The JVC Fire TV comes with Alexa integrated, so you can have hours of fun shouting into the remote. And of course, it's fully 4K.
But the Fire TV is not without competition.
For a start, Samsung announced at IFA 2019 that it will be bringing Apple TV Plus to its smart TVs.
Apple TV Plus is Apple's latest assault on the video streaming services market, and it was only announced in March.
Apple TV will offer a range of exclusive content as well as Apple-produced media.
Samsung's announcement means consumers will be able to watch Apple TV Plus without buying Apple devices – good news for everyone who has synced their entire life via Google.
Meanwhile, Hisense used IFA 2019 to announce that it has teamed up with US-based streaming services provider Roku to launch a Roku TV in Europe.
The Roku TV OS is popular in America, but this will be its first foray into the European market.
Roku is designed to be easy to use and to customise. It's also regularly updated with new channels and features, which might give it an edge among consumers who welcome variety.
Don't forget the audio
IFA 2019 also had a pleasing selection of streaming options for those who truly care about sound.
The Sonos Move is a portable Bluetooth speaker that has been built to resist even a soggy British autumn, so you can take it outside.
The Sonos Move supports Google Assistant and Amazon Alexa, even though Sonos has just removed voice control from its new Sonos One SL.
Sonos Move also comes with a facility known as Trueplay, which allows the user to adjust the speaker output to suit their environment.
You currently need an iOS device to use Trueplay, although Sonos reps have hinted it may be used with Android in due course.
Finally, for those who enjoy streaming top spec sound and vision to their top spec smart home, IFA 2019 may have showcased the new 'must have'.
The Definitive Technology Studio Slim is a soundbar and subwoofer with Chromecast support and voice control, making streaming music and films from any WiFi device simple.
With virtual surround sound, pre-setting capability and a range of environment-appropriate adjustment options, the Studio Slim will go on sale in November.