Study finds UK's Top Christmas Films… and they're pretty Violent!
In-depth data analysis shows we love a good punch-up in our festive faves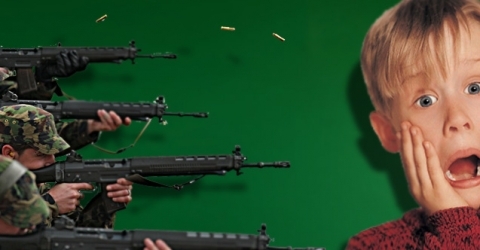 A study commissioned by BroadbandDeals.co.uk, The Elf Report 2020 has definitively answered the perennial question of which Christmas film is best.
Festive Data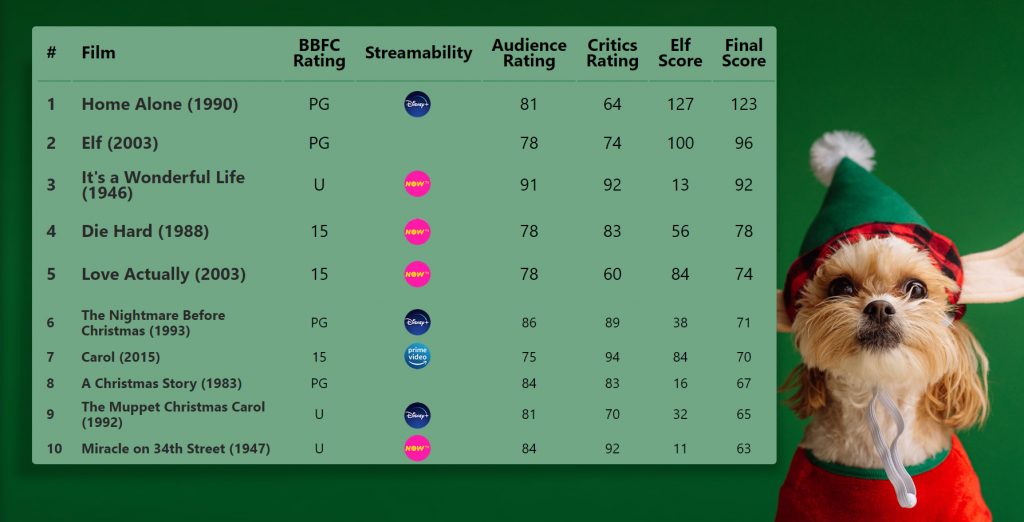 The study examined profitability and search trends, as well as critical and audience reception from over 150 festive favourites.
The film data was processed using a comparison algorithm to definitively discover the UK's top 50. They found that, while we all profess to love It's a Wonderful Life the most, in fact Home Alone is by far our top choice at Christmas.
Elf came in second, and controversial thriller Die Hard made it to number 4.
There were few big surprises in the top 10, but in compiling the list, the data-elves found some interesting stuff!
Plotting mischief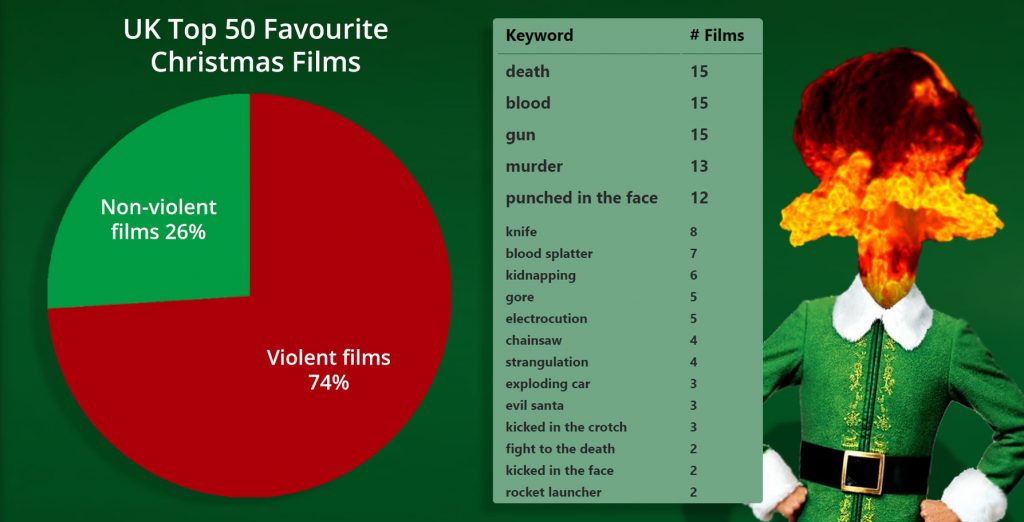 Alongside other movie data, the Elf Report looked at key plot points in each of the films listed.
Predictably, most films had 'family' as a main focus. 'Snow' also ranked highly, showing up in 41 of the top 50.
One surprise was that 'dog's almost beat 'Santa', featuring in 27 films to the Big Jolly's 29.
But by far the most unexpected result was that 74% of the top 50 Christmas movies featured out-and-out violence.
Themes such as 'death', 'guns' and 'murder' appeared in a huge number of our festive favourites, and even 'rocket launchers' turned up multiple times.
Tale as old as time
You might think a penchant for violence must be a worrying new trend. You'd be wrong – it seems we've enjoyed a helping of punch with Christmas dinner for quite some time.
The plot key-phrase 'punched in the face' showed up no fewer than 12 times, with the earliest instance being 1944!
'Revenge' makes appearances as early as 1946, while 'guns' have been involved for even longer, first appearing in 1940's The Shop Around the Corner.
So, a key ingredient of the perfect Christmas film is a nice dollop of violence, but it's not as bleak as it sounds.
While there are a few genuine gore-fests on the list (who doesn't love a yuletide horror flick), the vast majority of the best Christmas movies are rate PG or U – so the chances are that any violence is played for laughs.