Virgin want headlines as Scottish broadband expands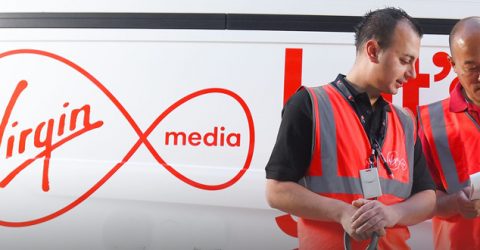 Virgin's Project Lightning upgrades north of the border will see thousands more Scottish homes and businesses connected up to ultrafast broadband this year.
Executives outlined plans to add nine areas to its 350Mbps plans in places surrounding Scotland's two largest cities.
These are:
Bathgate, at the midpoint between Edinburgh and Glasgow;
Bonnyrigg, to the south of the capital city;
Cranhill in inner-city Glasgow;
Joppa, an eastern suburb of Edinburgh on the coast of the First of Forth;
Jordanhill, an affluent area in Glasgow's West End;
Kilbirnie, a town of 7,000 that's 20 miles south of Glasgow;
the football town of Kilmarnock in Ayrshire;
the traditionally deprived area of Shettleston in Glasgow's east end;
and finally Stepps, a northeastern suburb of Glasgow.
Virgin made the plans public at an event in Edinburgh with (to give him his full title) the country's Cabinet Secretary for Rural Economy and Connectivity, Fergus Ewing MSP.
Ewing highlighted how the rollout would help the government meet its commitment to offer 100% superfast Scottish broadband access by the end of 2021.
Of course, every government has a different metric of 'superfast' broadband.
Big competition
With the likes of Cityfibre installing gigabit-ready services across councils in England and Scotland, Virgin's 350Mbps speeds are not looking quite so impressive any more.
And the numbers won't always stack up for big infrastructure projects.
At the launch event Virgin made it clear there were barriers in their way. Top brass called on the Scottish broadband decision makers to act on:
Introducing long-term business rates relief for new broadband while Project Lightning is ongoing
adding a provision to Scotland's new Planning Bill that new homes should have access to multiple ultrafast networks, not just BT,
giving engineers more flexibility to allow multiple teams to operate on any one site
creating a new 'notification' wayleaves regime so that absentee landlords cannot block leaseholder access to broadband
Virgin want headlines
While the likes of full fibre network builders Hyperoptic and Cityfibre have been grabbing the headlines, Virgin insist its Project Lightning investment makes it "the largest new broadband builder in the UK over the past two years, more than all of its competitors combined."
Virgin has connected over 1.1 million premises to its network since Project Lightning began in 2015.
It's not all been plain sailing, however.
Overestimates of the numbers led to four executives getting susupended last year and a scramble to drastically revise projections.
But Virgin says it is now on track to extend its reach to 17 million homes by the end of 2019.