Peterborough full fibre coming 2019 with £30m CityFibre rollout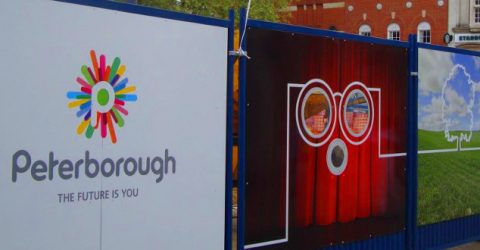 A celebrated cathedral city 75 miles north of London is the newest home to the fastest broadband you can buy: Peterborough full fibre is coming.
CityFibre has announced today it will invest £30 million in extending its network to give nearly every resident and local business the option of gigabit (1Gbps) speeds.
The upgrade will start in May 2018.
Internal reports suggest the rollout could add £45m to the value of homes for Peterborough's 200,000 residents.
Everyone in the city is now being given the option to pre-register interest for Vodafone's Gigafast Broadband.
Vodafone are expected to start selling home and business full fibre broadband based on CityFibre's network by early 2019.
How did Peterborough full fibre happen?
The ink is barely dry on CityFibre's November 2017 £500m deal with Vodafone to install and run gigabit-capable fibre broadband across 12 towns and cities in the UK.
By 2021 the deal will Vodafone wholesale gigabit access to 5 million homes and businesses in the UK.
All of Vodafone's fast fibre home broadband now comes with a guaranteed speed promise or the option to switch away without paying any penalty.
Reach further than Openreach
CityFibre's Chief Executive Greg Mesch took a pointed swipe at Openreach – the network builders who were forced to split off from parent company BT last March.
Openreach standard (17Mbps) and Fibre to the Cabinet broadband (38Mbps/76Mbps) extends throughout the vast majority of the UK.
The tech is built on 175-year-old copper wiring that – while widely used – is subject to slow and unreliable connections.
CityFibre by contrast install full fibre networks that are made up of only fibre-optic cables.
This tech is also known as Fibre to the Premises.
Full fibre broadband that you can buy today on the open market comes via two main ISPs: Hyperoptic and Gigaclear.
City leader John Holditch OBE told the press that his council had been working with CityFibre to develop and expand the reach of their full fibre network.
He said: "It has become a platform for our Smart City initiatives, helps us attract businesses and develop our emerging tech sector."
CityFibre started building Peterborough full fibre in 2013 with a council-wide deal to provide gigabit speeds to schools, local government offices and Peterborough City Hospital.
Milton Keynes was the first place in England to benefit from the roll out, with a £40m investment offering every resident and local business the option of 1Gbps download and upload speeds.
In Scotland, 57 council sites including schools and libraries in Aberdeen are now linked up to the CityFibre ultrafast network.
MAIN IMAGE: Gwydion M Williams/CC BY 2.0