Vodafone commits to 1,000 5G networks by 2020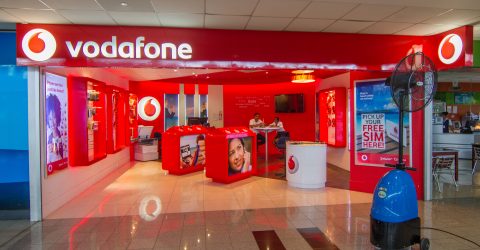 According to the news agency Reuters, Vodafone has announced plans to implement 1,000 5G-enabled network sites across the UK by 2020. With Vodafone claiming it will deliver extremely fast speeds and near-instant response times.
The telecom giant will begin trialling 5G networks in seven cities, planning to bring the technology to Cornwall and the Lake District national park next year. Two regions that have been historically poorly served by existing coverage.
The advent of 5G mobile telecoms is essential for coping with the continued growth in demand for ever-faster speeds, capacity and reliability. Network operators hope 5G will open up a host of new business cases such as the connected cars, factories and cities.
And while all of the UK's networks have been trialling 5G services, at present consumers can not make calls until 5G-ready devices are available. Next year will see the first of such handsets for the first time.
In fact, the Motorola Moto Z3 phone, that was released in August is the first commercially available that can be upgraded to 5G. According to Reuters, shipments of 5G-enabled phones will be hitting our shores sometime in the second half of 2019.
Vodafone flagged-up one benefit of 5G when they demonstrated the use of holographic calls. The call was between the England's women's football team captain, Steph Houghton in Manchester and 11-year-old young fan, Iris in the company's headquarters in Newbury. The fan was able to give a high five to the holographic footballer and watch her skills up-close, even though they were hundreds of miles apart.
Vodafone see holographic calling as the next evolutionary step of video conferencing but did admit it remains unknown how long it will take for the technology to become widely available.
Vodafone's chief technology officer, Scott Petty said 5G technology would ultimately enable speeds of one gigabit per second. This speed would open-up a wide-range of opportunities for ultra-high definition content and immersive services.
Mr Petty highlighted how the near-instant response times with 5G will eliminate the lag that, for example, causes motion sickness in users of virtual reality headsets. He asserted this opens up a whole host of new capabilities in gaming, in virtual reality and augment reality applications, especially for businesses.
Meanwhile, at a conference last week Vodafone's CEO, Nick Read confirmed that the company would not be selling some network assets such as towers. His reasoning being that Vodafone already has CTIL, its tower company in the UK which they jointly own with Telefonica.
Image: Maksym Kozlenko