EE teams up with YouTube footballers for 5G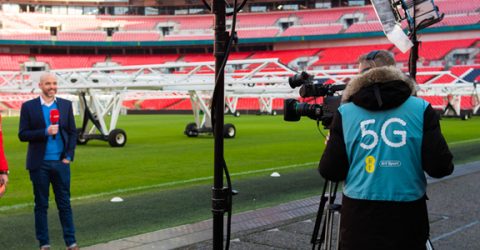 Three has been making waves lately about its prospects for 5G broadband, but EE is fighting back with some big publicity of its own.
On 25th November, the finals of the FA-recognized EE Wembley Cup will be broadcast live to the Spencer FC YouTube channel's 1.9 million subscribers (and anyone else watching). In the lead-up to the event, EE and BT Sport have showcased their 5G remote production system with a two-way broadcast between Wembley stadium and London's ExCeL Exhibition Centre.
It may be for YouTube, but no expense is being spared, with BT Sport presenters Matt Smith and Abi Stephens being called in for coverage, as well as "international football legends" making an appearance in the final.
MoreHow to watch BT Sport online
We've all heard promises of the innovations that 5G will bring beyond faster mobile downloads, so it is refreshing to see it actually in action. Remote 5G production could shape up to be a big shift in the way live events are recorded and televised by "opening up more coverage possibilities and reducing costs by reducing the number of technicians required at each game".
Live broadcasting is one of the most ambitious feats in video production, needing precise co-ordination between lots of moving parts to record, edit, and deliver video in real-time. The Spencer FC Youtube channel is packed with high production values, but this live broadcast is certainly bringing things to another level.
With YouTube and other streaming platforms utterly outperforming TV for younger audiences, it's no surprise to see EE and BT pouring their support into Spencer Owen's YouTube channel.
You can check out the slick highlights of the Wembley Cup group stages on this playlist, or subscribe to Spencer FC to be notified when the event goes live.
Image: EE