My Wi-Fi! Borat cancelled in Kazakhstan for broadband jokes.
Sacha Baron Cohen is in hot water for mocking Kazakhstan's broadband... among other things.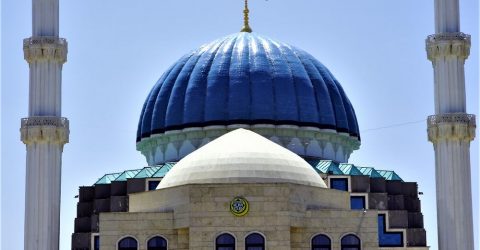 Not so National Treasure.
According to Borat, Kazakhstan is a place where women are kept in "wife cages", monkeys host TV shows and broadband does not exist.
Over the years, Kazakhstan's attitude towards Borat has oscillated between outrage and acceptance. In 2007 a spokesman for Kazakhstan said: 'the people of Kazakhstan are offended.  The Kazakhstan government even resorted to taking out newspaper adverts to refute Sacha Baron Cohen's jokes. And for a while, DVD sales of Borat were even banned in the country.
As they say, time heals all wounds. By 2012 the Kazak foreign minister said: "With the release of this film, the number of visas issued by Kazakhstan grew tenfold. I am grateful to Borat for helping attract tourists to Kazakhstan."
Borat 2 far?
However, that goodwill ended recently because of promotion for the Borat sequel. For promotion of Borat 2 a fake Kazakhstan government Twitter was set up. The account tweeted: "We are unable to currently follow debate because of poor WiFi signal despite recent govermment [sic] purchase of broadband account. Please inform us of developments!" 
This led to the creation of the Kazakh hashtag '#CancelBorat'.

Mai Wi-Fi!
Is there any truth to this joke? The short answer is no. The longer answer is that Central Asia has long lagged behind other areas for connectivity. However, Borat's home has always been one of the luckier nations in the area.
In just 5 years Kazakhstan internet access rose from just 8.5% (2007) to 62% (2013). Today over 75% of the country has internet access. This is one of the highest figures for Central Asia, in which internet penetration has been slow.
MeanwhileA third of Brits suffer poor broadband connection during COVID-19
That's not to say it's a broadband trailblazer in global terms. Kazakhstan comes in at 61st place in the broadband Internet speed ranking out of 177 countries. Speeds there are generally around 31.86Mbps.
In Kazakhstan, it's around $10.5-$13 a month for 10Mbps speeds from an official ISP. It costs less to connect to the operators who put a common modem on an apartment building.
Borat 2 ends with the country collectively tethering from an iPhone hotspot for internet connection. And while 10Mbps isn't really enough to stream with, it's definitely better than that!