Can the internet cope with mass self-isolation?
With traffic at unprecedented highs, can the web's infrastructure cope?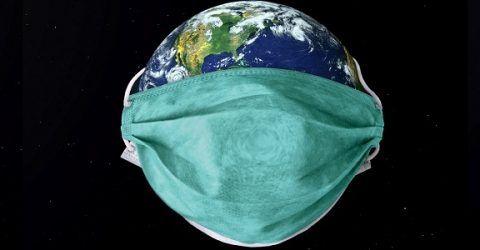 The impact of the unprecedented global lockdown of countries around the world is going to reverberate for many years.
In the long-term, these decisions are likely to have economic and social implications which can't be quantified – and certainly haven't been accurately costed by panicked Governments.
In the short-term, national lockdowns are placing unprecedented pressure on internet service providers to keep the virtual lights on.
After all, what else is there to do during a global pandemic than stay at home and watch Netflix? Or Amazon Prime TV, or Disney+, or BritBox…
However, rewatching every series of 24 doesn't just pass time during enforced self-isolation. It also places an additional burden on the internet.
Multiply that by hundreds of millions of households, who might normally be at work consuming far less bandwidth, and potential issues become clear.
It's also worth noting domestic broadband connections are asynchronous – biased in favour of downloads to reflect our status as consumers of content rather than producers.
That's fine for bingeing on The Grand Tour, but less helpful while attempting a Skype call with home-based colleagues, or uploading large files to a central server.
So what are companies doing to support online services during the current period of mass self-isolation?
Pulling in the same direction
Firstly, it's worth pointing out that the internet has survived traffic peaks before, and there is nothing to suggest we're about to experience a mass outage.
However, response times are likely to increase, due to a general lack of bandwidth.
UK homes rely on a patchwork quilt of connectivity, from copper-based ADSL telephone lines to ultrafast fibre optic cabling.
Even so, the UK's biggest provider of domestic internet data seems unconcerned.
Indeed, BT has removed data caps on home broadband accounts to support people working remotely.
Its all-time record of 17.5 terabits of data being relayed across its network per second has yet to be surpassed, with the highest daytime reading in recent weeks just 7.5Tb/s.
Virgin Media recently stated its network "can withstand any increased usage, including peaks throughout the day… As usage rises, our existing capacity will be able to take it."
Nor is it merely ISPs who are trying to make life easier during this period of mass self-isolation.
Software platforms including Slack, Zoom and Microsoft have made key productivity tools freely available, so people can work at home more easily.
It's also worth noting many activities undertaken by home workers would be occurring in the office – file transfers, VoIP calls, and so forth.
Irrespective of where this data originates and terminates, it still traverses the same internet exchanges and subsea internet cables along the way.
Stream of consciousness
Streaming media services play a crucial role in reducing data traffic volumes, since theirs is the most bandwidth-intensive content on the internet.
Netflix, Amazon Prime and Apple TV+ have all lowered their minimum streaming bitrates, reducing the volume of data distributed per second.
This results in more blocky content, albeit still watchable. Netflix claims its actions should reduce European data volumes by a quarter.
The newly-launched Disney+ service has slightly lowered its bitrates in Europe, without wanting to scare away early adopters by delivering grainy or blocky content.
The EU has asked YouTube – the world's second-biggest search engine behind parent company Google – to move European audiences to 480p standard definition video.
HD footage remains available as an option, but broadcasting in SD by default is expected to free up considerable amounts of bandwidth.
Meanwhile, Facebook has reduced video file quality across its core platform and its Instagram subsidiary.
Is it helping?
The chances are you managed to load this webpage without significant delay, and without having to refresh your browser. So yes, these collective measures are helping.
ISPs are reporting less peaks and troughs in web usage, with more consistently high bandwidth over the course of each 24-hour cycle.
It's putting more pressure on the networks, and there have been some high-profile outages recently. Loading times are slightly slower, and video picture quality may be slightly inferior.
Yet the internet is coping fine with mass self-isolation so far.