To Disney+ or not to Disney+
Now is the perfect time to get on board the latest streaming platform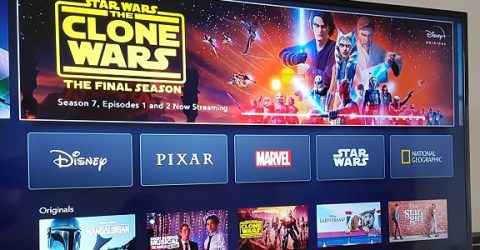 With almost every recent news story focusing on Coronavirus, it may have slipped your notice that another streaming service launched at the end of March.
Disney+ represents the American media empire's belated assault on the twin fortresses of Netflix and Amazon Prime.
It follows the removal of Disney's entire movie archive from rival streaming services, weakening its competitors while providing several significant USPs.
This is the only platform where you'll be able to watch Disney's huge vault of historic and more contemporary movies.
It's also the home of Pixar's hugely impressive back catalogue, every Marvel movie ever released (of which there are 23), and the full roster of Star Wars films.
Alongside these household-name brands, the presence of National Geographic seems anomalous, though it does give Disney+ documentary content to broaden its appeal slightly.
But how does this latest entrant into the streaming media market work? And is it worth subscribing to?
Pluses and minuses
A Disney+ subscription costs £5.99 per month, or £59.99 a year. There are no tiered packages here.
Some users reported issues negotiating the payment portal, and it could take up to 48 hours before a confirmation email arrives in your inbox.
If you're planning to watch Disney+ on a set top box, you may need to update your operating system before the app will be visible.
For instance, Sky customers should update their Sky Q or Sky+ boxes, after which a dark blue logo will appear at the bottom of the App menu.
Opening the app reveals a homepage with five main categories – Disney, Marvel, Star Wars, Pixar and National Geographic – and a pull-out menu at the left-hand side.
This left-hand menu offers facilities like alphabetical title listings, while clicking into one of the five main categories brings up Netflix-style menus of available films and programming.
Another feature reminiscent of Netflix is the curated suggestions on the homepage, based on previous account activity.
Speaking of which, it's possible to watch four different streams simultaneously, where rival services often restrict you to just one without upgrading your subscription.
Content can be viewed on smart TVs and set top boxes, desktops and laptops, with Android and iOS apps available for tablets and smartphones.
It's worth noting that the Search facility on desktop devices isn't especially intuitive.
The single horizontal line of letters quickly becomes frustrating to navigate, while typing in "The Sim" still doesn't reveal the Simpsons as the top result.
Key content
Beyond the film franchises listed above, other attractions of Disney+ include all 30 series of the aforementioned Simpsons, and The Mandalorian – the first live-action Star Wars series.
You'll also find X-Men movies here, despite a complicated legal history which has hitherto seen these Marvel comic characters excluded from the eponymous Cinematic Universe.
Then there's classic children's TV including Hannah Montana and Lizzie McGuire, plus family-friendly sitcoms like Malcolm in the Middle.
Indeed, the Disney brand's focus on family-friendly content means its streaming service covers a limited number of genres.
You won't find historic, biographical or war films here. Thrillers, mysteries and adult comedies are thin on the ground, while the crime and horror genres are totally absent.
Similar sentiments apply to the TV series on offer, many of which are aimed purely at children.
However, with over 600 movies and more than 150 series in its archives, the sheer wealth of exclusive content makes Disney+ a worthy addition to the streaming service marketplace.