BT Sport Score heads free to Twitter as PL blocks livestreams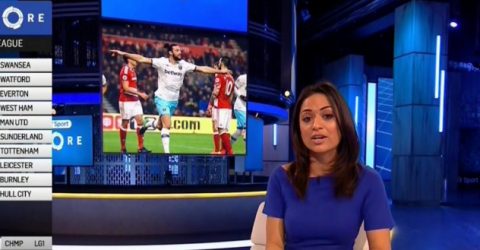 In a bid to pull in more customers, BT Sport are moving their football results show Score live to Twitter.
It gives millions of Twitter users the chance to see a part of BT Sport for free. Well, those who aren't illegally livestreaming their matches anyway.
BT has broadcast rights to show 42 Premier League matches this season. With the first weekend of football already been and gone, fans are licking their chops at the prospect of an entertaining season.
BT paid an absolutely vast amount of money for these rights but have not seen the customer numbers they were expecting.
The Premier League had to go to the High Court in London to get a ruling to say it could live-block illegal or pirated livestreams, and admitted that it had blocked 600 streams last weekend alone.
Half of all football fans in the UK admitted to having watched a free livestream illegally, with a third saying they do so regularly.
So BT are hoping new paying customers will fall at their door by making this round-up show available for free.
MoreHow the Premier League went nuclear to block Kodi
Last season BT streamed the UEFA Champions League and UEFA Europa League finals for free on Youtube.
Where can I watch BT Sport
BT Sport is available an an add-on app to any BT or Plusnet broadband bundle.
You can also get BT Sport through Sky. It costs £22.99 a month in SD (standard definition) or £27.99 a month in HD (high definition).
Subscribing to BT Sport gets you all of the BT channels: BT Sport 1, 2 and 3 and BT Sport ESPN.
MoreHow to watch BT Sport online
The show will be streamed via @btsportscore on Twitter every Saturday from 2.30pm, presented by Mark Pougatch, with Jermaine Jenas and Robbie Savage.
Simon Green, head of BT Sport, said: "We're delighted to be showing BT Sport Score live on Twitter. This provides Twitter users a great chance to sample our strong programming, who will be able to watch football news and scores as they come in, whether they are at home or on the move. Innovation is at the heart of BT and we look forward to working with Twitter."
Theo Luke, Director of EMEA Sports Partnerships, Twitter, said: "BT Sport's innovative approach continues to transform the experience for fans on Twitter, a place where football conversation is happening live in real time every day. We're extremely excited to collaborate with them to ensure fans on Twitter don't miss a moment of the Saturday afternoon action."